12 Tonne GVW Hot Box
2/1/11
Fully insulated containers.
Dedicated to chassis for max payload of 6.5 tonnes.
Gas system thermostatically controlled.
Twin chambers (split 60/40).
Capacity 4 cu metres.
Amber beacon bar to cab roof.
Towing equipment.
Available on either short or long term hot box hire.
Delivery & collection service of Hot Boxes available.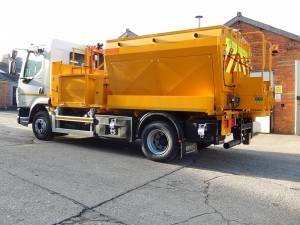 Our 12 tonne GVW hot box has a capacity of 4 cu metres and is split 60/40 with twin chambers. The gas system is thermostatically controlled and has fully insulated containers to ensure that your road surfacing materials are kept at the optimum temperature. For safety we also have an amber beacon bar fitted to the cab roof, to make other drivers aware of the vehicles presence. If you would like to find out more about 12 tonne hot box, then please get in touch with our team who can supply you with a quote.