Tipper Hire Made Easy
28/7/16
At N D Brown we like to make tipper hire as easy as possible. We have many different types and sizes of tipper available for hire on both a long and short term basis. Finding the right tipper to hire for your project may be confusing, so here is a handy guide to walk you through our tippers for hire.
Tippers for hire
We have many options and sizes of tippers available to hire, from a 3.5 tonne tipper to the much larger 32 tonne tipper. Our tippers come with side or rear tipping bodies, to cater for whatever your needs may be.
Our smallest tipper comes with a steel dropside body, cab and gantry mounted beacons and a universal tow bar. Our larger tippers come with features such as tailboards with tarmac chutes, a choice of additional cranes, and chevrons for additional safety precautions.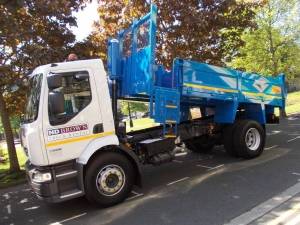 Tipper hire with grabbers included
Our tipper grabs come with Atlas, Epsilon or HMS cranes to fit the specification of your project, and would be ideal for lifting and transporting heavy goods. They have a fixed sided heavy duty tipping body, full 'chapter 8' high resolution reflective to rear chevrons for safety reasons, and a vertical exhaust.
Cage tipper hire
Cage tippers increase your hold capacity with its cage structure, and are used heavily within building and trade work. They can also be used during home renovations, as they are great for carrying garden or home waste. It comes with sliding doors for access, double drop sides and full height rear barn doors.
Our tippers can be hired throughout the UK from one of our strategically placed depots. We can bring the tipper to you or you can collect it from the depot most convenient to you. Our hiring contracts are flexible and range from a week to an open-ended contract to allow full flexibility. If you would like any more help or advice on our tipper hire, feel free to contact us for advice.
About ND Brown
ND Brown Ltd is a specialist independent truck rental and sales company of over 40 years' standing. Owned and operated by the same dedicated management team since its inception, ND Brown's efforts are focused on supplying the utility, civil engineering, municipal and highway maintenance industries with high-quality modern HGV vehicles for both short and long-term self-drive hire.
From our sales division, we also sell a wide, but specialised range of new and used commercial vehicles.
Please call us on 01902 791991 or email us on enquiries@ndbrown.co.uk