Winter Road Maintenance from ND Brown
9/3/16
The winter weather takes its toll on our roads causing damage which can greatly affect road users. In addition to cold snaps and snow, this winter has also seen an unprecedented level of rain fall and floods, causing roads to deteriorate and become unsafe. It's essential that damage is repaired promptly; this ensures that roads are up and running as quickly as possible and also prevents any further damage.
Cracks and potholes grow larger over time as water enters the gap, freezes and expands, causing the hole to get bigger. This process can happen time and time again, multiplying the problem.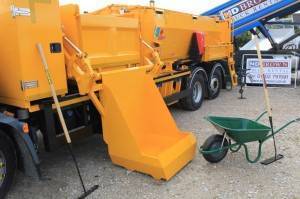 Hot Boxes for Road Maintenance
Here at ND Brown we specialise in supplying hot boxes which are specifically designed for road maintenance, and supply our vehicles throughout the country. Hot boxes are widely used throughout the road maintenance sector to provide efficient and effective road resurfacing and repair. Our hot box hire fleet is wide and varied to ensure that we have a vehicle which suits the requirements and scale of your project. Choose from 7.5 tonne, 12 tonne, 18 tonne, 18 tonne with side tipper, 18 tonne with roadmender, 21 tonne with roadmender and 26 tonne – take a look at our product specifications for more information.
Let us help you find the right hot box hire solution:
Our team are experts in hot box hire and can help you decide which of our hot boxes are best suited to the needs of your business. We have depots throughout the country, enabling us to provide a quick service wherever your business in located – we also offer a drop off and collection service to make the process as easy as possible.
If you would like to find out more about our hot box hire options please get in touch with a member of our expert team.