Hot Box Servicing & Repair – Choose Our Expert Team
29/2/16
Here at ND Brow we work with hot boxes every day and have a team of highly skilled mechanics who work to maintain and repair our own hot box vehicles. This exceptional level of experience and familiarity with a wide selection of hot box vehicles makes us perfectly placed to perform servicing and repairs on third party vehicles, and we offer this service countrywide.
Because we're constantly working on hot boxes we also carry a wide range of spare parts including augers and bearings for most hot boxes, and this enables us to give you competitive prices on all of our services.
The Importance of Hot Box Servicing
It's essential to service your hot box regularly, to keep it safe for use but also to ensure that it's working at its full capacity. A broken or worn out element of your hot box can make it efficient and so it's best to get it fixed as quickly as possible. Many problems can also get worse if left, and so it's essential to replace faulty elements of your vehicle before it deteriorates further.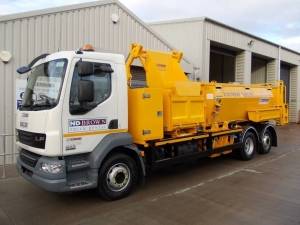 In addition to our servicing and repair we also provide hot box hire throughout the country. If you're interested in hiring on of our hot boxes then you can take a look at our hire page for more information. We offer expert customer service, highly maintained vehicles and a wide range of contract lengths to make sure that we have the perfect fleet solution for your requirements.
Contact us for Hot Box Hire, Servicing & Repairs:
If you would like to learn more about our hot box hire, then please get in touch with a member of our expert team.
About ND Brown
ND Brown Ltd is a specialist independent truck rental and sales company of over 40 years' standing. Owned and operated by the same dedicated management team since its inception, ND Brown's efforts are focused on supplying the utility, civil engineering, municipal and highway maintenance industries with high-quality modern HGV vehicles for both short and long-term self-drive hire.
From our sales division, we also sell a wide, but specialised range of new and used commercial vehicles.
Please call us on 01902 791991 or email us on enquiries@ndbrown.co.uk