The Benefits of Cage Tippers
26/2/16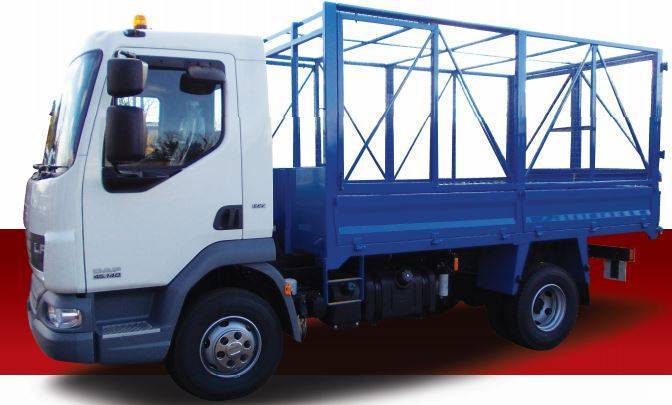 Cage tippers are one of the most recent additions to our HGV hire fleet and are an incredibly popular option for a whole range of industries including utility, civil engineering, municipal and highway maintenance sectors. Many businesses are appreciating the benefits of using cage tippers as part you project, which include:
Integral cage built into the tipper vehicle to provide support in transit.

Makes it easy to transport and unload goods, using the tipper feature.

Our tippers are fitted with full height rear barn doors and double drop sides to make the cargo easily accessible.
7.5 Tonne Cage Tippers from ND Brown
Our 7.5 tonne cage tipper is available to hire from our depots based throughout the country. If you want to learn more about our 7.5 tonne cage tipper here's a quick run down of its main features.
End tipper to make it easy to unload cargo

Double drop sides

Accessible steps and grab handles to ensure that operating the cage tipper is as simple & safe as possible.

This cage tipper also comes with sliding side access doors and full height rear barn doors to give you high levels of accessibility.
Contact us for Cage Tipper Hire:
This cage tipper also comes with a tow bar (with electrics), reverse camero, beacon bar and chapter 8 to comply with site safety. You can hire our cage tippers on both a short and long term basis dependant on your requirements and can work with you to find a fleet solution which meets the needs of your business. To make the process as simple as possible we also offer a drop off and collection service. Simply contact a member of our team who can provide you with a quote and answer any questions you may have.
About ND Brown
ND Brown Ltd is a specialist independent truck rental and sales company of over 40 years' standing. Owned and operated by the same dedicated management team since its inception, ND Brown's efforts are focused on supplying the utility, civil engineering, municipal and highway maintenance industries with high-quality modern HGV vehicles for both short and long-term self-drive hire.
From our sales division, we also sell a wide, but specialised range of new and used commercial vehicles.
Please call us on 01902 791991 or email us on enquiries@ndbrown.co.uk