The Benefits of Cage Tippers
26/2/16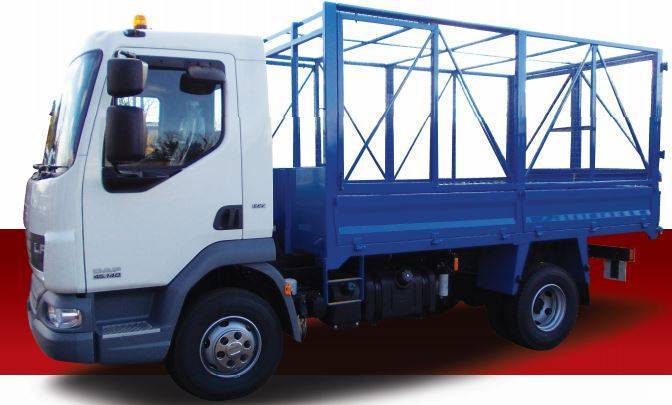 Cage tippers are one of the most recent additions to our HGV hire fleet and are an incredibly popular option for a whole range of industries, including utility, civil engineering, municipal and highway maintenance sectors.
These vehicles are primarily used for transportation of materials from place to place. The large cage attached to the back of the vehicle ensures a larger capacity than a normal tipper vehicle, while the cage (which can be locked) ensures that the user's security concerns are well looked after. As a result, the vehicle does not have to be occupied 24 hours a day to ensure the safety of materials within. 
Today, many businesses all over the country appreciate the benefits of using cage tippers as part of their projects. These projects include:
Integral cage built into the tipper vehicle to provide support in transit.

Makes it easy to transport and unload goods, using the tipper feature.

Our tippers are fitted with full height rear barn doors and double drop sides to make the cargo easily accessible.
Cage Tippers from ND Brown
ND Brown is proud to offer Cage Tippers in two sizes: 7.2 tonne tippers and 7.5 tippers. Like many vehicles in our fleet, these vehicles have come to us from our friends at Ivecco. 
Based on the Ivecco Eurocargo, our fleet of Cage Trippers has been specifically designed and built in order to maximise the carrying capacity of the cage whilst ensuring that none of the benefits of the Eurocargo were sacrificed.
Vehicle Specifications
Both our 7.2 and 7.5 tonne Cage Tippers come with the following specifications as standard. 
Lightweight tipper body with full cage

Double drop sides

Access steps and grab handles 

Tow bar with electrics

Sliding scale access doors 

End Tip

Cycle Safety side scan equipment, including CLOCS and FORS

Tow Bar, Reverse Camera, Deacon Bar, Chapter 8 

Full height rear barn doors 

Available For both short and long term hire

Delivery/Collection Services available
Both our 7.5 tonne and 7.2 tonne cage tippers are available to hire from our depots based throughout the country. If you want to learn more about our 7.5 tonne cage tipper here's a quick run down of its main features.
End tipper to make it easy to unload cargo

Double drop sides

Accessible steps and grab handles to ensure that operating the cage tipper is as simple & safe as possible.

This cage tipper also comes with sliding side access doors and full height rear barn doors to give you high levels of accessibility.
Contact us for Cage Tipper Hire
ND Brown is proud to offer both the 7.2 and 7.5 tonne in our HGV Hire Fleet. As previously mentioned, our cage tippers, like most ND Brown Brown vehicles, are available for long term and short term hire – depending on your business's needs. Our vehicles are available throughout the United Kingdom; whether you're looking to hire in North West or Greater Manchester, we can provide you with the vehicle you need.  
To make the process as simple as possible we also offer a drop off and collection service. Simply contact a member of our team. We can provide you with a quote and answer any questions you may have.
For more information about grab hire in Manchester or HGV hire in London, please get in contact with ND Brown today.
About ND Brown
ND Brown Ltd is a specialist independent truck rental and sales company of over 40 years' standing. Owned and operated by the same dedicated management team since its inception, ND Brown's efforts are focused on supplying the utility, civil engineering, municipal and highway maintenance industries with high-quality modern HGV vehicles for both short and long-term self-drive hire.
From our sales division, we also sell a wide, but specialised range of new and used commercial vehicles.
Please call us on 01902 791991 or email us on enquiries@ndbrown.co.uk