26 Tonne GVW Hot Box
6/1/11
Fully insulated containers.
Dedicated chassis for maximum payload.
Capacity 7.5cu metres.
Payload 15 tonnes (approx).
Gas system thermostatically controlled.
Twin chambers split 60/40.
Towing equipment.
Available short – long term hot box hire.
Delivery/Collection service available for hot box hire.
Full refurbishment facility available for customers own vehicles.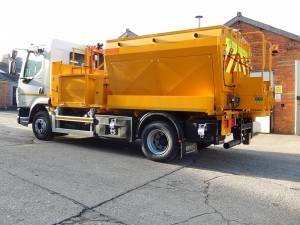 Hot box hire has never been easier with our 26 tonne vehicle. It's the largest of our hot box fleet and provides fast and efficient results. It has a capacity of 7.5 cu metres, and a dedicated cassis for maximum payload. Our hot boxes are often used for construction, road maintenance, civil engineering and municipal projects and are available for both short and long term hire. A delivery and collection service is also available throughout the country to make the hot box hire process easier. For more information, or for a quote, please get in touch with a member of our team.