£6billion HGV Road Mending Opportunity
9/1/15
The Government has announced a budget of £6billion between 2015 and 2021 to help fix pot holes and generally improve local roads with the use of HGVs. The news comes after thousands of public complaints and the theory that a smaller budget offer only a temporary fix, which would only lead to future costs. Working out at around £976million per year, with HGV hire (available in many forms from us at N D brown) could fix up to 18 million potholes throughout the UK.
Accompanying this announcement is the decision to hold the UK's first ever 'National Pot Hole Day', to be held on 15th January 2015. This is an idea put forward by a website which allows the public to report potholes and road damage that needs to be fixed with hot box, tipper or another HGV hire.
A certain amount of the budget has been allocated in an incentive scheme, allowing the councils who can demonstrate putting their own budget to good use, the chance to gain further money to fund HGV hire and materials. This should ensure that the budgets are being used sensibly and to optimum effect, with the use of well maintained HGVs and a look at employing long term fixes.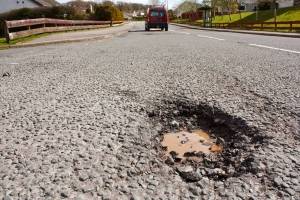 HGV Hire from N D Brown
The increased budget should promise safer roads for the future, as well as decreasing future charges that would otherwise occur. N D Brown is delighted to be a part of this change, supplying a range of HGV vehicles for both hire and sale. Our fleet consists of hot boxes, tippers, cage tippers, and tipper grabs; all of which are available to hire for both short and long term periods, and some of which we often have available to buy in excellent condition – because stock fluctuates, getting in touch is the best way to find out which HGVs we have to offer.
Deploy a cost-effective, preventative solution to road damage through the use of our HGV hire services; we operate throughout the entire UK and have dedicated area managers who are available to give advice on the type of HGV you need.
Contact us for HGV Hire in the UK
If you're looking for hot box hire, tipper hire, tipper grab hire or cage tipper hire in the UK, get in touch with us for a quote or simply to discuss your HGV needs.
About ND Brown
ND Brown Ltd is a specialist independent truck rental and sales company of over 40 years' standing. Owned and operated by the same dedicated management team since its inception, ND Brown's efforts are focused on supplying the utility, civil engineering, municipal and highway maintenance industries with high-quality modern HGV vehicles for both short and long-term self-drive hire.
From our sales division, we also sell a wide, but specialised range of new and used commercial vehicles.
Please call us on 01902 791991 or email us on enquiries@ndbrown.co.uk