Cage Tipper Hire for Construction Projects
22/10/15
Here at ND Brown we supply a wide range of cage tipper vehicles for construction projects throughout the country. A cage tipper is formed of a tipper body with a cage and so is perfect for transporting large amounts of cargo. The cage covering works to hold the items in place, enabling larger items to be transported without the risk of them falling. They are widely used on construction projects, either in conjunction with other elements of our specialist vehicle hire or as the sole method of transportation.
The Benefits of Cage Tipper Hire
Here at ND Brown we provide a 7.5 tonne GVW tipper with cage which has a lightweight tipper body with full cage. It comes with access steps and grab handles for ease of use, as well as sliding side access doors. To make the removal of cargo even easier the end tipper can be used to empty the vehicle, through full height rear barn doors. For safety they're also fitted with a tow boar, reverse camera, beacon bar and chapter 8.  Our cage tippers are available for both short and long term hire and can be hired throughout the country from our strategically placed depots throughout the country.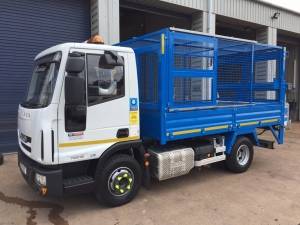 Cage Tipper Locations
One of our most popular areas for cage tippers London, and this operates from our branch in the South of England, but we work countrywide through our six locations. To make the process as easy as possible we also offer a drop off and collection service to ensure that your hire package fits in with your construction schedule.
If you would like to find out more about how our cage tippers can be beneficial to your construction projects then please get in touch with a member of our team. We can help you decide which of our vehicles is best suited to your project and advise you on availability and price.
About ND Brown
ND Brown Ltd is a specialist independent truck rental and sales company of over 40 years' standing. Owned and operated by the same dedicated management team since its inception, ND Brown's efforts are focused on supplying the utility, civil engineering, municipal and highway maintenance industries with high-quality modern HGV vehicles for both short and long-term self-drive hire.
From our sales division, we also sell a wide, but specialised range of new and used commercial vehicles.
Please call us on 01902 791991 or email us on enquiries@ndbrown.co.uk