Choosing the Best Tipper Hire for You
14/1/19
Tipper hire for your next project will vary depending on the tasks you are carrying out.
Here at N.D Brown we have a wide range of tipper hire vehicles and below we will give you some tips on the sort of tasks each capacity of vehicle is hired for.
We regularly work with customers right across cities such as Manchester, Birmingham, London as well as Scotland and across the rest of the United Kingdom.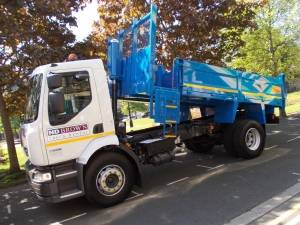 Size Makes a Difference for Tipper Hire
Our 3.5 tonne tipper vehicle can carry two passengers and is popular with self-build projects and larger DIY jobs.
The 7.5 tonne tipper from our fleet offers adjustable towing equipment and can tip to the rear or either side if required. This vehicle is typically hired by small builders and contractors.
We offer two different types of 18 tonne tipper vehicles; one with a cover on the tipper and the other without. Both of these vehicles offer a payload of up to 10 tonnes, with an insulated body available. This size of tipper can be used for transporting a variety of materials including aggregates, soil, and sand.
Our 26 tonne range of tipper hire vehicles are popular with utility companies as a reinstatement lorry with the added bonus of having a crane fixed in the tipper area which can be used to clear dirt and rubbish from sites and save you time.
The largest tipper hire vehicle we offer is the 32 tonne range, which is commonly used in a range of scenarios such as industrial, construction and timber. This vehicle can carry between 16 and 20 tonnes of material.
Get in Touch to Order Your Tipper Hire
N.D Brown has been delivering tipper hire amongst other services for the past 30 years and we're proud to one of the UK's leading independent truck rental and sales companies.
We can offer you both short term and long term tipper hire solutions, so contact us today to speak to one of our team with your enquiry.
About ND Brown
ND Brown Ltd is a specialist independent truck rental and sales company of over 40 years' standing. Owned and operated by the same dedicated management team since its inception, ND Brown's efforts are focused on supplying the utility, civil engineering, municipal and highway maintenance industries with high-quality modern HGV vehicles for both short and long-term self-drive hire.
From our sales division, we also sell a wide, but specialised range of new and used commercial vehicles.
Please call us on 01902 791991 or email us on enquiries@ndbrown.co.uk