Countrywide HGV Hire for a Multitude of Sectors
3/8/18
At ND Brown, we're well known across the United Kingdom for supplying our HGV hire vehicle range to multiple sectors, including utility, civil engineering, municipal and highway maintenance.
We're experts at providing a wide range of specialist HGV vehicles throughout the country, thanks to our range of depots spanning across Wolverhampton, Kent, Devon, Plean and Belfast.
We've been running for over 30 years and we are still owned and operated by the same dedicated management team. Since we started, we've been focused on providing an excellent service in providing short and long term hire options.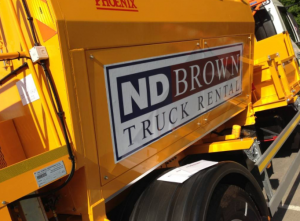 A Wide Range of HGV Hire Options
We have over 450 HGV Hire vehicles that spans across hot boxes, tippers, tipper grabs, cage tippers and 4x4s.
Our high level of choice and wide range can be used for a number of differing applications. Our 3.5 tonne tippers are suited more to one off, or smaller construction projects, whereas our 32 tonne tipper grabs meet the demands of larger civil engineering projects.
Our hot box HGV hire is perfect for maintaining highways through fixing potholes and laying asphalt – with their thermostatic control used to keep the road surfacing material at the optimum temperature. This then allows the user to complete their repairs in an efficient manner whilst retaining the quality of the work.
Ranging from 7.5 tonne to 26 tonne hot boxes, with 12 tonne and 18 tonne options in the middle – we're sure we've got something in our range to please. Some of our 18 tonne options include those with a side tipper body and a roadmender.
Get in Touch to Discuss our HGV Hire
Available countrywide (including London), we can arrange to drop off and pick up the vehicles in our HGV Hire service, making the entire process more efficient for you.
If you'd like to find out more information regarding our HGV hire vehicles, please get in touch with a member of our expert team today.
About ND Brown
ND Brown Ltd is a specialist independent truck rental and sales company of over 40 years' standing. Owned and operated by the same dedicated management team since its inception, ND Brown's efforts are focused on supplying the utility, civil engineering, municipal and highway maintenance industries with high-quality modern HGV vehicles for both short and long-term self-drive hire.
From our sales division, we also sell a wide, but specialised range of new and used commercial vehicles.
Please call us on 01902 791991 or email us on enquiries@ndbrown.co.uk