Dependable HGV Hire for the Utility Sector
29/3/16
The utilities sector is a demanding industry, which is constantly in demand due to the ever present need for power and utility services. This umbrella term includes electricity, gas, water management as well as wide range of other areas.
Our Range of HGV Hire Vehicles:
Due to the exacting nature of this sector it's essential that the resources used in facilitating these services and applications are of a high quality and are dependable.  Here at ND Brown we specialise in providing HGV hire to the utility sector with an extensive fleet of hot boxes, cage tippers, tippers, grabs and 4x4s available. We work with utility businesses throughout the country, providing a fast and efficient service, which keeps customers returning time and time again.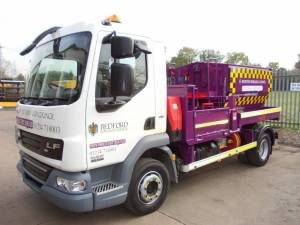 We're incredibly versatile and can tailor your HGV hire solution to your requirements. From a single tipper for a short term project, through to several of our vehicles for a more long term strategy, here at ND Brown we can help.
HGV Hire can be an integral part of utility businesses, providing efficient transportation of cargo as well as area maintenance.
Our depots are placed throughout the country and this ensure that wherever you're located in the UK (including London) we can provide you with high quality HGV hire. We also provide servicing and repair for hot boxes and commercial vehicles to keep them in the best condition possible. Our depots also carry a wide range of spare parts including augers and bearings – to ensure repairs are completed as quickly as possible.
Contact us for HGV hire:
If you would like to find out more about our HGV hire vehicles then please get in touch with a member of our team.
About ND Brown
ND Brown Ltd is a specialist independent truck rental and sales company of over 40 years' standing. Owned and operated by the same dedicated management team since its inception, ND Brown's efforts are focused on supplying the utility, civil engineering, municipal and highway maintenance industries with high-quality modern HGV vehicles for both short and long-term self-drive hire.
From our sales division, we also sell a wide, but specialised range of new and used commercial vehicles.
Please call us on 01902 791991 or email us on enquiries@ndbrown.co.uk