DPF Regeneration – exhausts on Mitsubishi and Isuzu.
7/12/12
ND Brown Ltd have produced a brief description to advise their customers on DPF regeneration on Mitsubishi and Isuzu vehicles. Please do not hesitate to contact us if you require any further details and advice.
Please note that it is imperative that users perform a regeneration, either automatically or manually, whilst these vehicles are on hire.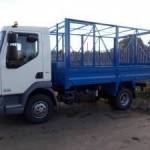 About ND Brown
ND Brown Ltd is a specialist independent truck rental and sales company of over 40 years' standing. Owned and operated by the same dedicated management team since its inception, ND Brown's efforts are focused on supplying the utility, civil engineering, municipal and highway maintenance industries with high-quality modern HGV vehicles for both short and long-term self-drive hire.
From our sales division, we also sell a wide, but specialised range of new and used commercial vehicles.
Please call us on 01902 791991 or email us on enquiries@ndbrown.co.uk