Essential Tarmac Hotbox Rentals
12/6/18
At ND Brown, we can provide an essential ingredient to the maintenance of the United Kingdom's road network with our tarmac hotbox rentals. They are available to contractors, local authorities and construction projects across the country.
Our tarmac hotbox rentals are great for heating asphalt and keeping it at the optimum temperature for working on busy motorways, adjoining trunk roads and even city streets and country lanes. Even better is the fact that our hotbox hire service is available across the United Kingdom due to our number of depots ranging across the Midlands, Northern and Southern England, Scotland and Northern Ireland.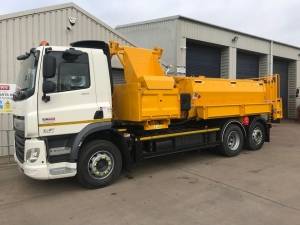 A Large Fleet of Tarmac Hotbox Options
Our fleet of tarmac hotbox vehicles is expansive, allowing us to ensure that we meet your requirements regardless of the scale of the project.
We can provide vehicles that are insulated for thermostat control, and are available in a number of differing sizes. For smaller surface areas and roads, we can provide a 7.5 tonne vehicle allowing for manoeuvre and less restricted movement in tight spaces. For applications like motorways, there's the 26 tonne vehicle on the other end of the scale. In between the smallest and largest vehicles in the fleet, we can provide 12, 18 and 21 tonne vehicles meaning that we can certainly meet your requirements.
If you're stuck surrounding the size of vehicle you'll require, or even the type of tarmac hotbox solution would work best for your project, our team are happy to guide you during the process.
Contact us for a Tarmac Hotbox Solution
At ND Brown we're confident you won't regret making us your first choice for hiring a tarmac hotbox. If you'd like to find more information regarding our multitude of options and how they can provide a solution to your planned and reactive road work projects, contact us today.
About ND Brown
ND Brown Ltd is a specialist independent truck rental and sales company of over 40 years' standing. Owned and operated by the same dedicated management team since its inception, ND Brown's efforts are focused on supplying the utility, civil engineering, municipal and highway maintenance industries with high-quality modern HGV vehicles for both short and long-term self-drive hire.
From our sales division, we also sell a wide, but specialised range of new and used commercial vehicles.
Please call us on 01902 791991 or email us on enquiries@ndbrown.co.uk