Specialists in Grab Hire for London Areas
13/9/16
Are you looking for someone to supply grab hire for London areas? If you are project managing construction, demolition or industrial projects within the M25 radius give ND Brown a call on 01902 79199.
We are specialists in HGV hire. Our extensive fleet of vehicles includes grab lorry hires. Available in different load capacities, these types of vehicle are the solution when the efficient loading and removal of non-hazardous waste is required. Keeping financially and logistically on schedule is vital to the successful outcome of your project. We understand this at ND Brown, so our grab hire for London areas can help keep the capital's building projects on track.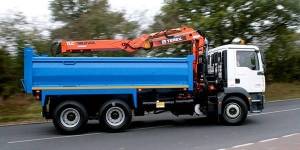 Supplying Grab Hire for London Boroughs
There are a number of options when it comes to the removal of waste from a site. There are times when you need the means to remove waste efficiently. This is particularly true on many sites within the London Boroughs.
A grab hire truck can enter a site, load and remove within a short turnaround time. Soil, hardcore, green waste, and brick or concrete demolition debris can all be transported in bulk. The powerful arm and claw bucket enable a single operative to work quickly minimising disruption. You can hire a single vehicle or as many as you need to keep your site moving. ND Brown have been supplying grab hire for London Boroughs for nearly 30 years.
Our grab hires come in 7.5 tonne, 26 tonne or 32 tonne options. Fixed sided with tipping capabilities, short and long term grab hire for London areas can be arranged through ND Brown. Find out more about our grab hire options.
Grab Hire for London from ND Brown
ND Brown have thirty years of experience of supplying HGV hire across the UK. If you would like to know more about grab hire for London areas, please contact us.
About ND Brown
ND Brown Ltd is a specialist independent truck rental and sales company of over 40 years' standing. Owned and operated by the same dedicated management team since its inception, ND Brown's efforts are focused on supplying the utility, civil engineering, municipal and highway maintenance industries with high-quality modern HGV vehicles for both short and long-term self-drive hire.
From our sales division, we also sell a wide, but specialised range of new and used commercial vehicles.
Please call us on 01902 791991 or email us on enquiries@ndbrown.co.uk