Midlands Grab Hire Solutions from ND Brown
20/9/16
Do you need to hire a grab lorry for your project in the Midlands region? Midlands grab hire solutions are available from ND Brown. We have the expertise and experience to supply you with exactly the right grab hire vehicle to suit your needs. ND Brown is ideally situated to provide HGV hire across the Midlands from our depot in Slade Heath, Wolverhampton.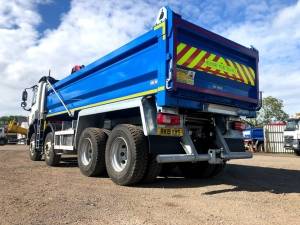 Supplying Midlands Grab Hire for over 30 Years
Grab trucks are often the most efficient way of removing bulk loads from construction, demolition or industrial sites in the Midlands. The powerful extendable arm and claw bucket can be used to grab loads from areas with restricted access. This can range from green waste, soil, bricks, concrete and other debris associated with the demolition and industry. When you need to load and transport non-hazardous waste from your site then a Midlands grab hire solution from ND Brown is the answer.
We understand the importance of making sure that your project runs smoothly, which is why we have a number of grab hire trucks with various capacities; 7.5 tonne, 26 tonne or 32 tonne options. Midlands grab hire can be arranged in short or long term timescales, depending on the duration of your project. There are also three types of lifting equipment; Epilson, Atlas or HMF arms and buckets.
If you would like to know more about our services at a glance, then please take a look at our FAQ's.
ND Brown Are Midlands Grab Hire Specialists
Midlands grab hire has been supplied by ND Brown for over thirty years. Under consistent ownership and management ND Brown are renowned for their excellent service. If you would like to know more about our hire services, please get in touch or call us on 01902 791991. Go to our Hire Guides to see our full range of vehicles.
About ND Brown
ND Brown Ltd is a specialist independent truck rental and sales company of over 40 years' standing. Owned and operated by the same dedicated management team since its inception, ND Brown's efforts are focused on supplying the utility, civil engineering, municipal and highway maintenance industries with high-quality modern HGV vehicles for both short and long-term self-drive hire.
From our sales division, we also sell a wide, but specialised range of new and used commercial vehicles.
Please call us on 01902 791991 or email us on enquiries@ndbrown.co.uk