First Choice for UK Hotbox Hire
26/9/16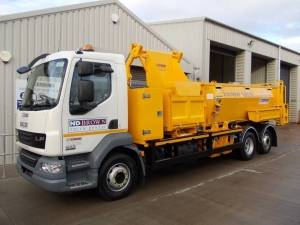 UK hotbox hire is available from ND Brown's fleet of specialist vehicles. Hotboxes are an essential part of surfacing new roads, car parks and driveways. They are an insulated unit with the ability to keep asphalt at the required temperature for use in resurfacing. A thermostat-controlled hotbox is available in a number of options from 7.5 tonnes up to 26 tonnes.
Our UK hot box hire vehicles have the following features:
Single and twin chamber options are available.
Fully insulated containers to keep a steady temperature.
Each hot box is dedicated to the chassis of the tractor unit for maximum payload.
Thermostatically controlled gas system.
Gas bottle lifting crane.
Tow bar, reverse camera, beacon bar, chapter 8.
Available for short and long term hires.
See the full UK hotbox hire features in our online brochure.
Are you looking to buy a hot box? Take a look at our vehicle sales.
UK Hot Box Hire from ND Brown's Nationwide Depots
ND Brown have depots across the country enabling full UK hotbox hire coverage. The main depot and Head Office is based near Wolverhampton, giving us access to projects and sites across England (including London) and Wales. The South West is served from our depot in Devon. Scotland has its own dedicated depot in Kilsyth, near Glasgow. Hot boxes are available to hire in Northern Ireland at our location in County Antrim.
Choose ND Brown for UK Hot Box Hire
N.D Brown are commercial vehicle hire and hotbox specialists with over 30 years of experience. We have the expertise and hardware to advise and supply you with UK hotbox hire. No job is too big or too small for us. If you would like to know more at a glance go to our FAQ's. Alternatively, if you have a specific question about any aspect of our UK hotbox hire then please contact us today!
About ND Brown
ND Brown Ltd is a specialist independent truck rental and sales company of over 40 years' standing. Owned and operated by the same dedicated management team since its inception, ND Brown's efforts are focused on supplying the utility, civil engineering, municipal and highway maintenance industries with high-quality modern HGV vehicles for both short and long-term self-drive hire.
From our sales division, we also sell a wide, but specialised range of new and used commercial vehicles.
Please call us on 01902 791991 or email us on enquiries@ndbrown.co.uk