Why HGV Hire is Best for your Company
7/4/16
If your business has a need for HGVs you may be in the process of deciding whether to buy or hire. Our HGV hire is an incredibly popular option with businesses throughout the country and we regularly work with the utility, civil engineering, municipal and highway maintenance industries. We provide a comprehensive range of HGV vehicles which includes, hot boxes, tippers, tippers grabs, cage tippers and 4x4s.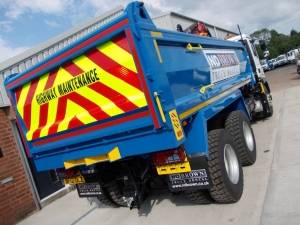 The Advantages of HGV Hire
If you're considering buying a HGV vehicle, here are some advantages of going for the hire option:
You'll always have the very best HGV hire vehicles – here at ND Brown we ensure that our vehicles meet the highest standards and have the latest technology.
You'll save money on maintenance costs and repairs – don't get stuck with large repair costs, instead hire one of our HGV hire vehicles. All of our vehicles are maintained to the highest levels to reduce the chance of disruption from a break down.
You can tailor your hire package to the needs of the business – we have a wide range of vehicles available and so you can hire the vehicles you need, when you need them. This provides you with an efficient method of meeting the HGV needs of your business.
Our hire service is available throughout the country including London, which means we can facilitate your hire requirements wherever you may be located.
Contact us for HGV hire:
We're specialists in HGV hire and provide a high quality hire service throughout the country. Our hire service is incredibly flexible, and we offer both short and long term hire dependant on your requirements. If you decide on purchasing a HGV vehicle then we also have a sales division – simply contact us.
To find out more about our HGV hire please get in touch with a member of our expert team.
About ND Brown
ND Brown Ltd is a specialist independent truck rental and sales company of over 40 years' standing. Owned and operated by the same dedicated management team since its inception, ND Brown's efforts are focused on supplying the utility, civil engineering, municipal and highway maintenance industries with high-quality modern HGV vehicles for both short and long-term self-drive hire.
From our sales division, we also sell a wide, but specialised range of new and used commercial vehicles.
Please call us on 01902 791991 or email us on enquiries@ndbrown.co.uk