HGV Hire and Commercial Vehicles from ND Brown
22/1/18
HGV hire and commercial vehicle rental from ND Brown is available at locations across the country (including London) from our regional depots. With a massive fleet of over 400 vehicles, we will be able to meet your heavy goods vehicle requirements anywhere in Great Britain and Northern Ireland. A multitude of civil engineering projects in both the public and private sectors have benefited from the hire expertise and provision of ND Brown. Whether you need a 4×4 or a tipper grab, we are here to meet your projects vehicle hire with excellent service.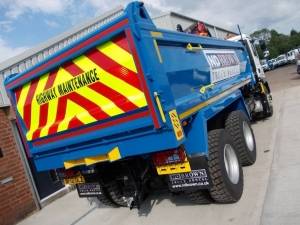 HGV Hire and Commercial Vehicles Available Today
We are waiting to take your call or email enquiry for HGV hire right now! ND Brown is ready with hot boxes, tippers, tipper grabs, cage tippers, gully emptiers, road sweepers, 4×4 pick up trucks and more. Find the vehicle you are looking for by browsing our vehicle hire section.
Alongside our HGV hire services we also have a collection of previously owned commercial vehicles for sale. If you are looking for your own truck we have DAF, Isuzu, Mitsubishi, and more available to buy.
ND Brown are HGV Hire and Commercial Vehicle Hire Specialists
With over 30 years of providing HGV hire we have become established as a company with quality vehicles, highly reliable and able to deliver excellent service. We understand that any busy project manager or contractor has to coordinate a demanding schedule so we can take on the commercial vehicle aspect of this for you. Short term and long term contracts and delivery and collection to any site will give you the piece of mind to focus on other aspects of your project.
How can we help you? Get in touch today for further advice and a quote.
About ND Brown
ND Brown Ltd is a specialist independent truck rental and sales company of over 40 years' standing. Owned and operated by the same dedicated management team since its inception, ND Brown's efforts are focused on supplying the utility, civil engineering, municipal and highway maintenance industries with high-quality modern HGV vehicles for both short and long-term self-drive hire.
From our sales division, we also sell a wide, but specialised range of new and used commercial vehicles.
Please call us on 01902 791991 or email us on enquiries@ndbrown.co.uk