Hot Box Hire for Winter Road Repairs
13/2/17
The hot box is at the forefront of road repairs and resurfacing. The British Winter weather throws excess water, snow, and ice at our carriageways. Gritting and heavy traffic use can lead to a degradation of the road surface and potholes.
To counteract this, the hot box is on the front line of road mending by providing hot asphalt when and wherever you need it to keep the carriageway in a good, safe, working order.
National Hot Box Hire from ND Brown
Wherever you are in the UK, we can enable you to meet the schedule of your road repair programme. Our high quality, modern and reliable hot box vehicles are available for specialist rental on a short and long term self drive hire.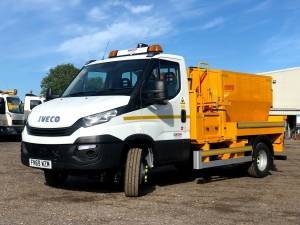 You are never too far away from an ND Brown Ltd depot. To access hot box hire in Scotland, our depot and offices in Plean will be the centre of deployment. The South West and South Wales is serviced from Witheridge in Devon. Hot box hire in London and the South East of England is the focus of our location in Tonbridge, Kent. Projects in Northern Ireland requiring the use of hot box trucks can benefit from our service provider based in Belfast. Our Head Office is in Wolverhampton in the West Midlands and is ideally placed to service the region, Northern England and Wales.
The ND Brown hot box fleet has the functions and features you need for large and small jobs. From the 7.5 tonne hot box for areas of restricted access, to the giant 26-tonne hot boxes for large scale asphalt surfacing projects – we have it covered!
Contact ND Brown Ltd Today to Hire Your Hot Box
ND Brown Ltd has been a hot box and commercial vehicle specialist for over thirty five years. We have provided reliable vehicles and excellent service for highway maintenance and civil engineering projects. To find out how we can help you, please contact us today.
About ND Brown
ND Brown Ltd is a specialist independent truck rental and sales company of over 40 years' standing. Owned and operated by the same dedicated management team since its inception, ND Brown's efforts are focused on supplying the utility, civil engineering, municipal and highway maintenance industries with high-quality modern HGV vehicles for both short and long-term self-drive hire.
From our sales division, we also sell a wide, but specialised range of new and used commercial vehicles.
Please call us on 01902 791991 or email us on enquiries@ndbrown.co.uk