Hotbox Hire Available Right Across the Country
6/12/18
Making surfacing hotbox hire available to customers right across the country is something we are extremely proud of here at N.D Brown.
We have depots in Wolverhampton, Devon, Kent, Belfast and Plean in Scotland, meaning we can cover any area you need to hire a surfacing hotbox for.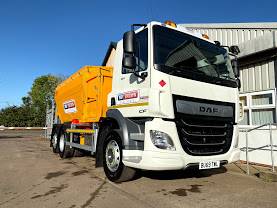 Our Sizes of Hotboxes
It's not just location where we offer variety; our hotbox vehicles come in the following sizes:
7.5 tonnes – Perfect for smaller jobs
12 tonnes
18 tonnes – Available with our without side tippers and road menders
21 tonnes – Also available with road mender
26 tonnes – Ideal for large-scale jobs
We continue to hear the horror stories about potholes right across the country, with a reported 35,000 potholes filled in and around Hull this year alone. Many believe the increase in road damage such as potholes is directly caused by last winter's longer freeze and systems such as the Beast from the East sweeping in.
Potholes are caused by wet and cold conditions, when water seeps into cracks in the road surface or into the soil beneath freezes, expands, then thaws, weakening the structure of the road.
The hire of either the 18 or 21-tonne hotbox model from N.D Brown is a great way to help keep our roads safe, as roads that are left to deteriorate will need more investment in repair work down the line.
Get in touch to discuss your road surface hotbox options
As you have read above, here at N.D Brown offer a wide variety of road surfacing hotbox vehicles that can handle any size of job you need it for.
Our 500 strong fleet of vehicles are primed and ready to deal with your requirements at affordable prices.
Contact us and speak to one of our friendly and experienced team and we can find the right road surfacing hotbox vehicle for you.
About ND Brown
ND Brown Ltd is a specialist independent truck rental and sales company of over 40 years' standing. Owned and operated by the same dedicated management team since its inception, ND Brown's efforts are focused on supplying the utility, civil engineering, municipal and highway maintenance industries with high-quality modern HGV vehicles for both short and long-term self-drive hire.
From our sales division, we also sell a wide, but specialised range of new and used commercial vehicles.
Please call us on 01902 791991 or email us on enquiries@ndbrown.co.uk