Make your project more efficient with our 7.5T Grab Hire
26/5/16
Our 7.5t tipper grab, is the smallest of our grab vehicles and is incredibly versatile for a wide range of projects. The small size of these vehicles means they're effective for fitting into restricted areas such as cities, whilst still having high lifting and transporting capabilities.
7.5t Grab Hire from ND Brown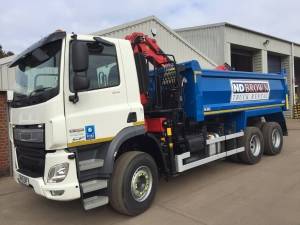 Our grab vehicles come with a choice of atlas, epsilon or HMF cranes and have a fixed sided heavy duty tipping body. They feature twin stand up controls and full 'Chapter 8' high resolution reflective chevrons to the rear.  You can find out more about the individual specifications of our grab hire vehicles by taking a look at our hire pages.
Grabs can improve the efficiency of your project providing an easy way to transport goods to and from your site. The grab crane enables you to lift cargo in and out of the truck bed with ease, and can reduce the man power required on a project.13
Contact us for grab hire:
In addition to our 7.5t grab hire vehicles, we also have a range of other grab vehicles sizes, including 26 tonne and 32 tonne options. This ensures that there's a grab hire option which meets your project requirements. If you would like to find out more about our grab hire, then please get in touch with a member of our team – we're on hand to help.