Pot Holes? Invest in Hot Box Hire
30/10/15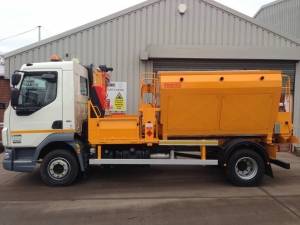 Pot holes can be an incredibly costly problem for both businesses and local authorities. Local authorities are expected to invest in fixing potholes, and if they occur on your private land it's important to get them fixed to prevent future repercussions. Our hot box hire can fix potholes quickly and efficiently, keeping the roadmending materials at the right temperature and making it easier for you to lay the surfacing. If you're still undecided though, here are three reasons why you should consider fixing those potholes.
Three Reasons to Solve your Pot Hole Problems with Hot Box Hire
Potholes can cause damage to cars and vehicles, resulting in punctured tyres and problems with suspension.
Pedestrians can also be affected by potholes, and they could become a trip hazard if they're in an area that's frequently walked on. If the pothole causes injury you could be liable for compensation.
Repairing a pothole when it first occurs is a sure-fire way of saving money. If left, potholes can get bigger and this could result in a much larger job to fix the issue when they become unmanageable.
Here at ND Brown, we provide a wide selection of hot box hire vehicles including 7.5 tonne, 12tonne, 18 tonne, 18 tonne with side tipper, 18-tonne roadmender, and 26-tonne vehicles. This means you can find a hot box vehicle which is perfectly suited to the scale of your business. We offer a wide range of hire options ranging from short term to long term, and can even drop off and collect our hot box vehicles at a location of your choice.
Find out more about hot box hire:
We work throughout the country through our six strategically placed depots, and we regularly work throughout the entire width and breadth of the nation. If you would like to find out more about our hot box hire please don't hesitate in contacting a member of our expert team.
About ND Brown
ND Brown Ltd is a specialist independent truck rental and sales company of over 40 years' standing. Owned and operated by the same dedicated management team since its inception, ND Brown's efforts are focused on supplying the utility, civil engineering, municipal and highway maintenance industries with high-quality modern HGV vehicles for both short and long-term self-drive hire.
From our sales division, we also sell a wide, but specialised range of new and used commercial vehicles.
Please call us on 01902 791991 or email us on enquiries@ndbrown.co.uk