Prepare for the Dryer Weather with HGV Hire
25/4/16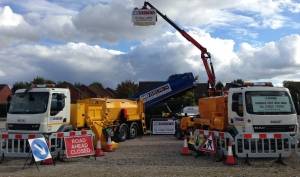 As spring gets into full swing, the days are getting longer and the weather is starting to look a little brighter. This change in weather can increase the need for HGV hire, as the dryer months see a growth in the number of construction projects across the country. If you've got a project coming up which requires HGV hire, now's the perfect time to start assessing your vehicular requirements.
Self Drive HGV Hire for All Projects
We specialise in providing self-drive HGV hire for a wide range of projects. Self-drive hire gives you the ultimate in flexibility and enables you to have full control of the HGV vehicles, tailoring their use to your requirements. We ensure that all of our HGV hire vehicles are maintained to high standards, and are available with exceptional specifications to ensure that you're completely happy with your hire vehicles.
Our self-drive hire vehicles are popular for a whole range of applications and projects and we regularly work with the construction, highway maintenance and civil engineering sectors. Our hire range is vast and includes:
Hot Boxes
Asphalt Hot Boxes
Asphalt Thermal Container
Insulated Tippers
Tipper Grabs
Cage Tippers
HGV Hire Tailored to Your Requirements:
Here at ND Brown, we offer HGV hire for a range of contract lengths to ensure that we can find a solution which meets your individual requirements – whether this a few months or open-ended. We also provide a delivery and collection service, to make the process as easy as possible.
If you would like to find out more about our HGV hire options, then please get in touch with a member of our team.
About ND Brown
ND Brown Ltd is a specialist independent truck rental and sales company of over 40 years' standing. Owned and operated by the same dedicated management team since its inception, ND Brown's efforts are focused on supplying the utility, civil engineering, municipal and highway maintenance industries with high-quality modern HGV vehicles for both short and long-term self-drive hire.
From our sales division, we also sell a wide, but specialised range of new and used commercial vehicles.
Please call us on 01902 791991 or email us on enquiries@ndbrown.co.uk