Reduce your Payouts with HGV Hire
18/2/15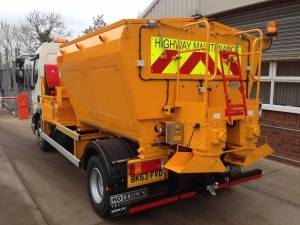 New data released from the RAC foundation states that drivers claimed £3.2 million for pothole damage in Britain during 2014, with the number rising year on year. 48,664 incidents of damage caused by poor roads were reported, with a problem set to grow after the recent cold patch. It's therefore incredibly important to ensure that your roads are maintained correctly, filling any potholes that may have arisen from the winter weather.
Keep your roads safe with HGV hire:
Good roads are important for safety, maintaining good transport links and to reduce costly payouts related to vehicle damage. Here at ND Brown, we have a range of Hot Box HGV Hire, and general HGV Hire to help you to keep your roads and walkways in optimum working order. We provide a range of hot box HGV hire in sizes from 7.5 tonne to 26 tonne, to suit both large scale repairs and one-off projects. Find out more about our full range of hotbox hire. Our HGV Hire is available on both long and short term hire options and can be supplied for open-ended contracts if required. To make the process even easier we also offer a delivery and collection service, which can be organised to suit your schedule. In addition to our hot box hire, our HGV hire also includes tippers, tipper grabs, cage tippers and 4×4 to make your road maintenance easy.
Find out more about our HGV hire:
All of our HGVs are maintained to the highest level, and this ensures that your road repairs can be done quickly and effectively. If you would like to find out more about our HGV hire then please get in touch with our expert team. We can advise on the best options for your project or maintenance contract.
About ND Brown
ND Brown Ltd is a specialist independent truck rental and sales company of over 40 years' standing. Owned and operated by the same dedicated management team since its inception, ND Brown's efforts are focused on supplying the utility, civil engineering, municipal and highway maintenance industries with high-quality modern HGV vehicles for both short and long-term self-drive hire.
From our sales division, we also sell a wide, but specialised range of new and used commercial vehicles.
Please call us on 01902 791991 or email us on enquiries@ndbrown.co.uk