Road Mending with HGV Hire
Here at ND Brown we specialise in providing a wide range of HGV hire options to the utility, civil engineering, municipal and highway maintenance sectors. One of the most popular uses for our HGVs is road mending and resurfacing. Road maintenance is an incredibly important part of ensuring road users safety, and reducing damage to vehicles – which can lead to expensive compensation claims. We have many contracts with highway maintenance businesses who depend on our high quality, reliable and cost effective HGV solution. If you are in need of reliable HGVs to hire, take a look at our fleet.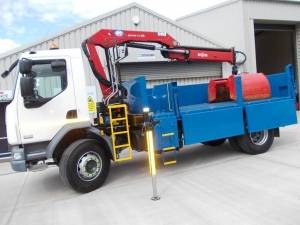 Hot Box HGV Hire
Our hot boxes are the most important part of our fleet for road mending, they have a fully insulated container which contains the road mending materials  and keeps them at the right temperature to ensure quick that it is laid quickly and easily. We also have dedicated roadmender hot boxes with an econ twin chamber hot box, hot propane gas heating system and hydraulically driven discharge augers. All of our HGV Hire vehicles are maintained to the highest levels by our skilled mechanical teams to ensure that they are in full working order throughout your hire experience.
HGV Hire Options:
We have a range of HGV hire options with varying lengths which stretch from short term solutions, to longer and open ended lengths. We're incredibly versatile with our HGV options, and can facilitate most projects big or small throughout the entirety of the UK. If you would like to learn more about our HGV hire, or to request a quote, then please get in touch with a member of our expert team, who will be happy to help. We're always happy to offer you any help and advice you may need. Furthermore, we can tailor your HGV service to your needs with short and long term hire contracts. We are SafeContractor approved, demonstrating our dedication to quality service.