Tipper Grabs in the Midlands
24/8/16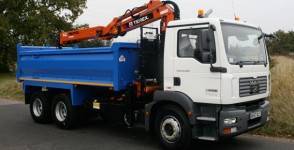 Are you looking for tipper grabs in the Midlands? If so, ND Brown has the perfect vehicle just waiting for you! With more than three decades working within the commercial vehicle hire industry, we are renowned for providing fantastic tipper grab hire services across the UK. At ND Brown, we understand how important it is that your construction or engineering job runs smoothly and efficiently to ensure that you get top results. For this reason, we ensure that our tipper grabs in the Midlands are maintained to the highest standard. Whether you are clearing soil or other demolition materials, ND Brown tipper grabs are powerful and reliable.
Choosing The Right Tipper Grabs in the Midlands
Choosing the right tipper grab can be difficult, you need to know how much material you will be transporting, how long you have to transport it and most importantly, you need to know what materials you are transporting and how heavy they are. Other important factors that you need to consider include site access, is the site easy or difficult to access? As there are so many factors to take into consideration, at ND Brown, we have made it our goal to ensure that we supply a variety of tipper grabs to suit every need. Today we offer tipper grabs in the Midlands in a variety of sizes including 7.5 tonne, 26 tonne, and 32 tonne variants. At ND Brown, no project is too big or too small for our fantastic range of reliable, durable and powerful tipper grabs in the Midlands.
Find Out More About Our Tipper Grabs in the Midlands
If you would like to find out more about our tipper grabs in the Midlands, please feel free to contact us directly. A member of our friendly, expert team will happily advise you and provide you with the right vehicle to suit your needs.
About ND Brown
ND Brown Ltd is a specialist independent truck rental and sales company of over 40 years' standing. Owned and operated by the same dedicated management team since its inception, ND Brown's efforts are focused on supplying the utility, civil engineering, municipal and highway maintenance industries with high-quality modern HGV vehicles for both short and long-term self-drive hire.
From our sales division, we also sell a wide, but specialised range of new and used commercial vehicles.
Please call us on 01902 791991 or email us on enquiries@ndbrown.co.uk