Tipper Hire Birmingham
Tipper hire in Birmingham can help with all of your hiring needs when it comes to tough and durable vehicles. At ND Brown we have a range of makes and models for you to choose from depending on the requirements you or your business have of our tipper hire services.
Exceptional Tipper Hire in Birmingham
So, if you are looking for tipper hire in Birmingham, come and visit our depot today – contact us for more information. Here at ND Brown we have even constructed purpose built garages to contain our ever-expanding fleet of tipper grabs, 4x4s, hot boxes, and all the rest.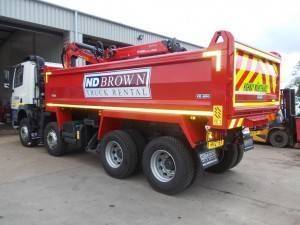 No matter where you live in the UK, ND Brown have a tipper hire for you. It's an effective way of leasing a heavy duty vehicle for industry without committing to buy. It is also cheaper and allows you to change vehicles as your needs change. Speak to ND Brown today about effective tipper hire solution. We have numerous tipper hire warehouses throughout the country with a wide range of vehicles at each one, so you will be able to find the most suitable tipper hire for you.
Tipper hire is great for businesses and industries and can either be a long-term or short-term solution.N D Brown are specialists in the industry who have been in business for over 30 years so will be able to help you find the most suitable truck rental for you. The company has recently expanded its sales division and we now sell a wide but specialised range of New and Used commercial vehicles. We would, of course, be more than pleased to hear of your requirements.
Find out more about tipper hire in Birmingham
N.D. Brown offer a number of services from hire of a hot box to self drive hire of tipper grabs and even the sale of insulated tippers, our sales specialists can guide you through your needs. So if you're looking to rent a tarmac hotbox or even to rent asphalt thermal containers or 4X4s then N.D. Brown are here to help. With N.D. Brown you can either hire or buy all our products listed.