Winners Of IVECO Daily Mission Award 2022!
18/11/22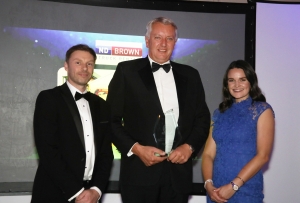 We're delighted to announce that we have won the IVECO Daily Mission Award in the Q1 Construction and Utility category, as well as becoming the overall Daily Mission Award winners! 
Our customised 7.2 Tonne GVW Tipper Grab vehicle had earned us the nomination for this prestigious award. Firstly, the judging panel were impressed by the GVW's grab-bucket crane and its engine-mounted, belt-driven hydraulic pump PTO. They described this as "a rare feature for LCVs with an automatic gearbox." The vehicles are expected to cover 30,000mi annually, contracted to an end user for five years. 
Secondly, they were fascinated by the steps taken to increase customer satisfaction and decrease user cost in the long and short term. To do this, we used a 7.2t Daily HI-MATIC over larger 7.5t trucks. This actively increased fuel efficiency while also decreasing the amount of time the vehicle would have to be off the road because of component wear. 
The next reason why we had been nominated, is because of our commitment to the long term safety of our customers and other road users. The panel of judges recognised our inclusion of camera systems, LED warning lights, and vulnerable road user scanners for FORS and CLOCS compliance. This is in addition to the low-height access. 
Finally, the judges were eager to point out our hard work to become carbon neutral, as well as our work with Carbon Footprint. These efforts support important preservation projects in the Amazon Rainforest.
About the Iveco Daily Mission Awards
The IVECO Daily Mission Awards, as their name suggests, are a collection of awards presented by the IVECO manufacturing company. These awards are given to companies who make the best and most inventive use of IVECO's Daily Chassis Cab as part of their daily missions.
We had a wonderful time at the IVECO Daily Mission Awards night, collecting our award in the Q1 Construction and Utility category as well as  Overall Winner Award. In the photo, you can see our MD Mark Fernyhough, being presented with our award by some of our fabulous evening hosts, Mike Cutts from IVECO and sports presenter, Laura Winter. 
It is a great honour to be awarded this famous prize and we would like to take this opportunity to thank Sherwood Truck and Van for nominating us, our customers, all our hard working staff, and everyone involved at the awards night. We would also like to congratulate MKM Building Supplies and UK Power Networks on being nominated.
Contact ND Brown For Vehicle Hire
We are the commercial vehicle and tarmac hotbox hire specialists. With 40 years of experience, we have offered our clients high-quality industrial vehicle hire. These vehicles are available in a range of sizes to suit your requirements. Our vehicles can be used for a wide range of applications including highway maintenance, road repairs, construction, and more.
For all your industrial vehicle hire needs, whether that be a need for cage tipper vans, tarmac hotbox or HGV hire, get in touch with ND Brown.
About ND Brown
ND Brown Ltd is a specialist independent truck rental and sales company of over 40 years' standing. Owned and operated by the same dedicated management team since its inception, ND Brown's efforts are focused on supplying the utility, civil engineering, municipal and highway maintenance industries with high-quality modern HGV vehicles for both short and long-term self-drive hire.
From our sales division, we also sell a wide, but specialised range of new and used commercial vehicles.
Please call us on 01902 791991 or email us on enquiries@ndbrown.co.uk