18 Tonne HGV Hire and More
15/9/18
One of our most popular and versatile vehicles are our 18 Tonne HGV hire packages! Here at N.D Brown we specialise in independent HGV hire and sales and have been doing so for over 30 years. Our efforts from day one have been on the supply of high performance, high-quality utility vehicles for the engineering, construction and maintenance sectors.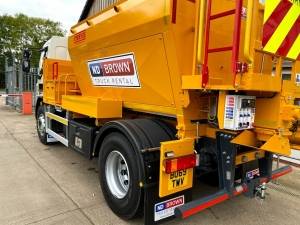 Manual labour projects can be tricky and ever-changing, with tight time schedules, restricted space and complicated road systems. Our experience providing HGVs throughout the UK means we're familiar with all settings, scenarios and projects. We'll work together to plan and can provide fast and efficient HGV wherever you require it.
Our HGV Hire Options
Tippers and tipper grabs are one of our most popular hire options. With either a side or rear tipper body makes them an ideal HGV for transporting bulky, heavy items and building materials. Our tipper hire options range from a small 3.5 tonne models, up to our largest 32-tonne tipper as well as many options in between. Additionally, we have a range of cage tippers which use a large cage structure and our tipper grabs, which incorporate a crane feature into the design of the vehicle for heavy lifting. See here for more information
Hot boxes are an essential cog for road repairs, maintenance and construction and are in constant demand throughout the year. Our hire options include 7.5 tonne, 12 tonne, 18 tonne and 18 tonnes with either a side tipper or road mender. See here for more information
Speak to N.D. Brown For HGV Hire
See our full range of HGV hire options here. If you would like to know more about any of our vehicles and hire packages or any other services. Please get in touch with a member of our team today. We operate all over the UK (including London) and no project is too big for our trucks!
About ND Brown
ND Brown Ltd is a specialist independent truck rental and sales company of over 40 years' standing. Owned and operated by the same dedicated management team since its inception, ND Brown's efforts are focused on supplying the utility, civil engineering, municipal and highway maintenance industries with high-quality modern HGV vehicles for both short and long-term self-drive hire.
From our sales division, we also sell a wide, but specialised range of new and used commercial vehicles.
Please call us on 01902 791991 or email us on enquiries@ndbrown.co.uk