Be Proactive This January with our HGV Hire
21/12/15
2016 is just around the corner and now is the perfect time to start thinking about your business plans for the New Year. January is always about fresh starts and getting organised so be proactive with that project you've been pondering on, or those repairs you've been putting off.
Experienced Suppliers of HGV Hire
Here at ND Brown we provide a wide range of HGV hire to help you to make those improvements even easier. We regularly supply to the utility, civil engineering, municipal and highway maintenance sectors – but can provide HGV hire for other businesses too, simply get in touch with a member of our hire team. Our fleet of over 450 vehicles varies in type and includes hot boxes, tippers, tipper grabs, cage tippers and 4x4s. Each of our HGV hire vehicles is available in different sizes and specifications which you can browse through online. This means you can tailor your hire package to the needs of your business, for effective HGV hire whatever your project.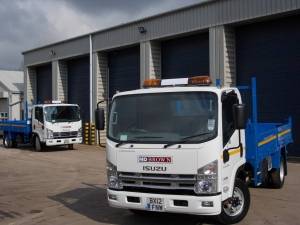 Our tipper grabs are a great vehicle for repairs and construction projects and come with either a Epsilon, Atlas or HMF crane. They are a great for carrying and moving heavy cargo, buy using their sturdy crane to lift and carry to and from the tipper. If you would like to learn more about our tipper HGV hire then please get in touch with a member of our team.
Contact ND Brown for HGV Hire:
In addition to our HGV hire we also offer a sales division which sells new and used commercial vehicles, contact our team who can listen to your requirements and help you find the right options for your needs. We pride ourselves on our dependable HGV hire and our excellent customer service, so if you have any questions please don't hesitate in contacting us.
About ND Brown
ND Brown Ltd is a specialist independent truck rental and sales company of over 40 years' standing. Owned and operated by the same dedicated management team since its inception, ND Brown's efforts are focused on supplying the utility, civil engineering, municipal and highway maintenance industries with high-quality modern HGV vehicles for both short and long-term self-drive hire.
From our sales division, we also sell a wide, but specialised range of new and used commercial vehicles.
Please call us on 01902 791991 or email us on enquiries@ndbrown.co.uk