Exceptional HGV Hire Year Round
17/12/15
Here at ND Brown we provide a comprehensive range of HGV hire vehicles throughout the year. From the throws of summer when you need tippers for construction projects to the coldest winter months when you urgently need hot box hire to repair roads, ND Brown can help with all of your specialist HGV hire requirements.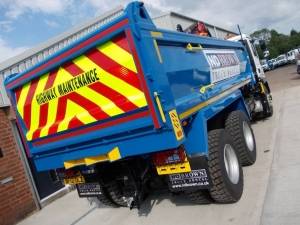 Our fleet of HGV hire vehicles is large and includes:
 Hot Boxes – we have 7.5t, 13t, 18t, 18t with side tipper, 18t roadmender and 26t hot boxes available to ensure there's a hot box which meets your requirements.
Tippers – our fleet includes 3.5t, 7.5t, 18t, 18t with cover, 26t and 32-tonne tippers.
 Tipper Grabs – tipper grabs include a Epilson, Atlas or HMF crane and come in 7.5t, 26t and 32t sizes.
 4x4s  – we supply CCTV land rovers, 4×4 pickups and 4×4 land rovers available for hire across the country.
Cage Tippers – cage tippers are the newest addition to our fleet and include a 7.5t tipper with a sturdy cage structure.
We have depots spread throughout England to ensure you can get high-quality HGV hire wherever you're located. All of our vehicles are maintained to the highest standards and are available on short and long term contracts dependant on your requirements. You can find out more about the individual specifications of our fleet by browsing through our vehicles online, but if you have any questions or if you're looking for something specific that you can't see then please get in touch with a member of our team who can answer any questions you may have.
We pride ourselves on providing a reliable and high-quality service year-round, so whatever the project use ND Brown for HGV hire you can depend on.