Repair Roads Early with Hot Box Hire
10/12/15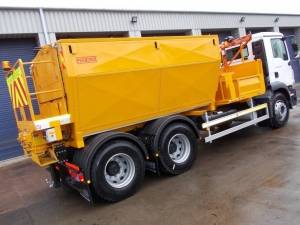 The cold winter weather can be extremely bad for roads, paths and buildings causing damage which must be repaired quickly. One of the most common areas to encounter problems is on the roads – these have to endure long periods of heavy rain with no shelter as well as the constant impact of vehicle traffic. If a crack or pothole appears in the road from the extra stresses placed on the surface it's essential that they're repaired early, to reduce the effects to the road users.
The Advantages of Repairing Roads Early with Hot Box Hire
If left, the problem could get worse as water can then get into this crack. If this water freezes this will then expand causing the crack to open further, and this can happen over and over again every time it rains and the temperature drops. This can cause hazardous conditions for drivers causing unsafe conditions and the possibility of damage to the vehicles driving on these roads. It's therefore essential that roads are repaired as soon as the first signs of potholes appear.
Here at ND Brown, we stock a wide selection of hot box hire vehicles which are designed to repair roads. They keep the road surfacing material at the optimum temperature for laying and funnel it to the area required. Our hot boxes are available in a range of sizes to suit the scale of your business or project and we also have a specialised 18-tonne roadmender hot box for larger jobs.
Contact ND Brown for Hot Box Hire:
If you would like to find out more about our hot box hire then please get in touch with a member of our team who can advise you on the best hot box hire option for your project and provide you with a quote.
About ND Brown
ND Brown Ltd is a specialist independent truck rental and sales company of over 40 years' standing. Owned and operated by the same dedicated management team since its inception, ND Brown's efforts are focused on supplying the utility, civil engineering, municipal and highway maintenance industries with high-quality modern HGV vehicles for both short and long-term self-drive hire.
From our sales division, we also sell a wide, but specialised range of new and used commercial vehicles.
Please call us on 01902 791991 or email us on enquiries@ndbrown.co.uk