Tipper Hire, Services & Repairs
26/11/15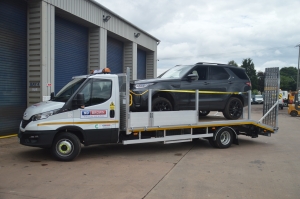 Here at ND Brown, we have been supplying specialist HGV hire for over 30 years and now use this expertise to provide a comprehensive tipper hire service – covering hire, sales, servicing and repairs.
Our Tipper Hire Services
We have a variety of different tipper vehicles available for hire in six different sizes dependant on your requirements. Choose from 3.5 tonnes, 7.5 tonnes, 18 tonnes, 18 tonnes with cover, 26 tonne and 32-tonne options. Some of our tippers are also available with grab features to make manoeuvring your cargo even easier. You can browse through the individual specifications of our tipper hire vehicles online and contact us if you have any questions.
Our service and repairs are also incredibly popular. We use our expertise in the industry to provide a comprehensive repair service, working with both our own vehicles and third party vehicles. Our skilled team carry a wide range of spare parts to ensure that they can complete repairs quickly and to the highest levels. We also provide routine services to vehicles to keep them in the best condition possible.
In addition to our hire division, we also provide a range of vehicles for sale. These tippers will change regularly as we're constantly adding new vehicles to our sales area – so please contact us with your requirements so we can see if we have anything which meets your needs.
Contact ND Brown for Tipper Hire
We supply our tipper hire throughout the UK and offer an efficient service with competitive prices. Strategically located depots around Great Britain and Northern Ireland enable us to meet customer demands for projects of all sizes. We have supported major construction and infrastructure projects with HGV and tipper hire. If you would like to find out more, or for a quote, please get in touch with a member of our expert team.
About ND Brown
ND Brown Ltd is a specialist independent truck rental and sales company of over 40 years' standing. Owned and operated by the same dedicated management team since its inception, ND Brown's efforts are focused on supplying the utility, civil engineering, municipal and highway maintenance industries with high-quality modern HGV vehicles for both short and long-term self-drive hire.
From our sales division, we also sell a wide, but specialised range of new and used commercial vehicles.
Please call us on 01902 791991 or email us on enquiries@ndbrown.co.uk