Cage Tippers Provide Versatile Transportation
19/12/17
Cage tippers are a practical and versatile way of carrying a variety of loads. There are occasions when a standard tipper isn't going to provide the security to a cargo. Usually this is large, bulky, and loose items which are also lightweight and won't stay within the vessel. The Driver and Vehicle Standards Agency (DVSA) define a secure load as one which is attached to a Heavy Goods Vehicle (HGV) so that it will not fall or affect the vehicle stability and cause danger or injury to other road users. Failure to adhere to these rules and regulations can have very serious consequences for the driver and operator with fixed penalty notices, large fines, and vehicle prohibition. Cage tippers provide a robust mesh box to keep the load safely in place. Often used for transporting bales of waste packaging, green waste like branches to name a few.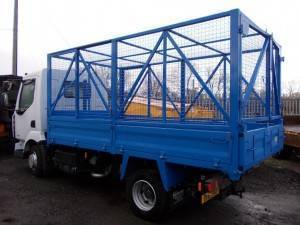 Hire Cage Tippers Across the United Kingdom
ND Brown has a network of regional depots across Great Britain and in Northern Ireland. We are strategically placed to provide cage tippers to contractors, local authorities, and operatives in the public and private sector. Depending upon the nature of your requirements our cage tippers are available on both short and long term hires. With drop off and pick up services we can meet your schedule anywhere in the United Kingdom.
Organise Hiring Your Cage Tippers with ND Brown
Its easy to organise your cage tippers with ND Brown. To discuss your hire and vehicle capacity requirements simply call our Head Office on 01902 791991. Alternatively, you can complete an enquiry form referencing the region you are in and a member of our team will respond promptly with further information and a quote. Please contact us about our HGV vehicle hire today.
About ND Brown
ND Brown Ltd is a specialist independent truck rental and sales company of over 40 years' standing. Owned and operated by the same dedicated management team since its inception, ND Brown's efforts are focused on supplying the utility, civil engineering, municipal and highway maintenance industries with high-quality modern HGV vehicles for both short and long-term self-drive hire.
From our sales division, we also sell a wide, but specialised range of new and used commercial vehicles.
Please call us on 01902 791991 or email us on enquiries@ndbrown.co.uk