Grab Hire in Birmingham for Groundwork Solutions
13/12/17
Grab hire in Birmingham is an essential truck for large groundwork and construction projects. In recent years Birmingham has seen an increase in construction projects with the development of Grand Central, New St Station and Paradise being announced as the most important city centre development outside of London, to name a few. This is a city in the process of a transformation with new transport, retail, and offices and an increase in city centre living changing the skyline.
To keep construction projects on track, you need a reliable grab hire in Birmingham. This specialist vehicle enables efficient "muck away" from site. A single driver/operative can arrive on site, load up with waste and remove it for recycling making it an efficient and cost effective solution within the groundwork, construction, and demolition trades.
Grab Hire in Birmingham Options
Grab hire lorries are versatile. Used to transport soils, hardcore, bricks and concrete and general waste, they are a regular part of building roads, demolishing buildings, or where any kind of utilities infrastructure is being excavated. They excel in areas where space is limited, the large bucket and extendable arm able to load and unload without the need for a digger or tipping. We are a Midlands based company with a large fleet to meet the requirements of any construction or excavation in the Birmingham area.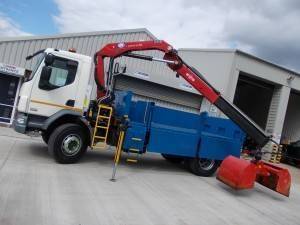 First Choice for Grab Hire in Birmingham
Make ND Brown your first choice for grab hire in Birmingham. We have vehicles of varying capacities from 18 tonne to an enormous 32 tonnes. Our Wolverhampton depot is ideally situated to service projects in Birmingham and across the West Midlands. With a range of short and long term hire options available, we are here to meet the demands of any building schedule requiring grab hire. Contact us for further information.
About ND Brown
ND Brown Ltd is a specialist independent truck rental and sales company of over 40 years' standing. Owned and operated by the same dedicated management team since its inception, ND Brown's efforts are focused on supplying the utility, civil engineering, municipal and highway maintenance industries with high-quality modern HGV vehicles for both short and long-term self-drive hire.
From our sales division, we also sell a wide, but specialised range of new and used commercial vehicles.
Please call us on 01902 791991 or email us on enquiries@ndbrown.co.uk