Tipper Hire Specialists Across the UK
19/12/17
To meet the demands of a fast paced construction or utilities project, ND Brown has the capability to provide tipper hire anywhere in the UK. Tippers fall into several categories and we have tippers, cage tippers and tipper grabs to fulfil the delivery and removal of materials and waste from building sites. This portfolio of trucks gives a wide versatility to deliver and remove soil, clay, bricks, hard core, concrete and general waste. Cage tippers can safely transport large and bulky items which are also lightweight and prone to being blown away if not contained. This could be packaging, insulation, or green waste like branches which haven't been shredded and chipped. One of the most adaptive trucks in the tipper hire fleet is the tipper grab. An individual operative can arrive onsite, load the truck using the giant bucket and pneumatic arm, then remove the cargo efficiently.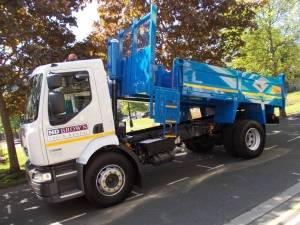 Tipper Hire Across the United Kingdom
Here at ND Brown, we have strategically placed regional depots around the country. Situated within easy reach of major cities and towns you can benefit from a highly reliable tipper hire service within your area. No project is too big or too small for us to supply vehicles to. Complete with safety beacons and chevrons and tow bars as standard, our tipper hires are guaranteed to be in the optimum condition for use.
Organise Your Tipper Hire with ND Brown
Getting your tipper hire scheduled with ND Brown is easy. We have over 3 decades of servicing contractors, local authorities, businesses, and organisations within the public and private sectors with vehicles to ensure that their project runs to plan. Count on ND Brown to supply the demands of your project with short and long term provision, delivering hire trucks exactly when and where you need them.
Contact us to arrange your tipper hire today.
About ND Brown
ND Brown Ltd is a specialist independent truck rental and sales company of over 40 years' standing. Owned and operated by the same dedicated management team since its inception, ND Brown's efforts are focused on supplying the utility, civil engineering, municipal and highway maintenance industries with high-quality modern HGV vehicles for both short and long-term self-drive hire.
From our sales division, we also sell a wide, but specialised range of new and used commercial vehicles.
Please call us on 01902 791991 or email us on enquiries@ndbrown.co.uk