Five Reasons To Use ND Brown For HGV Hire
15/9/22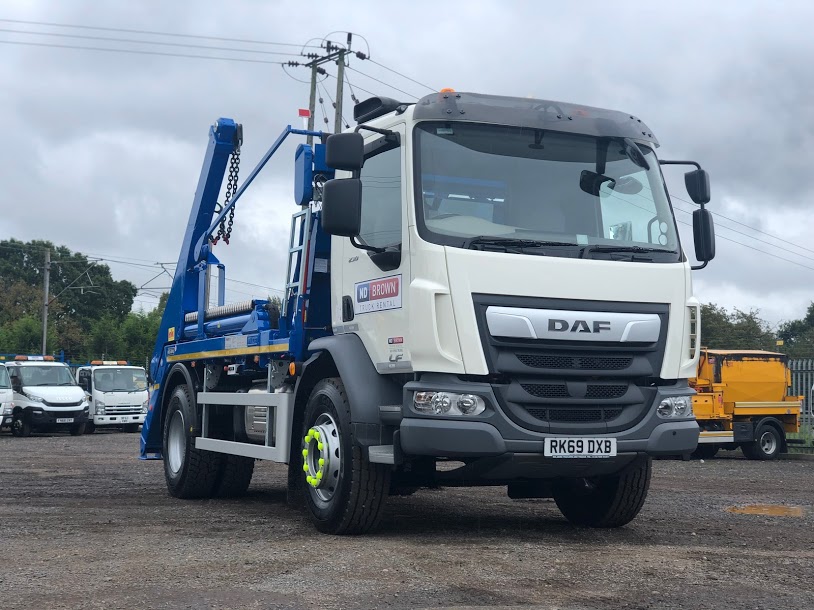 Here at ND Brown, we specialise in supplying the utility, civil engineering, municipal and highway maintenance sectors with high-quality modern vehicles. Our aim is to make our client's projects easier and more efficient with the supply of Asphalt Hot Box hire, Cage Tipper hire, Tipper hires, 4×4 truck hire, and grab hire, just to name a few. 
In case you're wondering why you should choose ND Brown for HGV hire over any other option, we thought that we would share five things that we believe make our services stand out among the rest. 
In this article from ND Brown, we'll be going over the 5 top reasons why you and your company should consider ND Brown for our HGV hire services. 
Reason 1. Vast Experience
As mentioned above, ND Brown has supplied a wide range of sectors and companies with our high-quality HGV hire vehicles for over 40 years. As a result, our team is well equipped to help you with any queries from the enquiry process to the final collection of the vehicle.
Not only that, but thanks to our experience, we have also developed a great understanding of what our clients need from us. As a result, we can offer the flexibility and services that make our clients' lives much easier. 
For example, we understand that our clients are not based in one area of the country  – they're everywhere! As a result, we've opened up depots throughout the United Kingdom, and our Northern Ireland depot is fully ready to service our clients in the Republic of Ireland. 
Reason 2. Contracts Tailored To You
Thanks to this experience, our team is fully aware that no two jobs are the same. For that reason, ND Brown offers tailor-made hire contracts to suit your specific needs. Examples of this include a wide variety of contract lengths and the option to have your HGV vehicle delivered to and collected from the site.
All of our HGV hire vehicles are available as short-term and long-term hires. Therefore, whether you're looking for a week's hire on a small project, a year's contract or even an open-ended contract, we've got you covered. 
In addition to this, our HGV hire vehicles can also be dropped off at and collected from the site according to your needs. All of these features can be negotiated with our team, who will do their very best to meet all of your requirements.
Reason 3. Number of vehicles
One of the most important things about our services is that we have the equipment to satisfy your project's every need. For that reason, we've built a fleet of over 550 HGV hire vehicles. Our range currently includes the following:
With so many options available from 26 Tonne Roadmender Hot Boxes, to 4×4 pickups, you're sure to find the vehicle you need in our fleet.
Reason 4. Nationwide HGV Hire Services
Thanks to our five strategically placed depots, we are able to offer a nationwide service for all of our HGV vehicles. We currently operate out of the following locations:
HQ – Wolverhampton

South West – Devon

South East – Kent

Scotland – Plean

Northern Ireland – Belfast
Due to this level of coverage, we're able to operate across England, Scotland, Northern Ireland and Wales, with clients regularly calling upon us in major cities like Glasgow, London, Birmingham, Manchester and the Midlands. As previously mentioned, our Belfast depot is also fully ready to service our clients in the Republic of Ireland. 
Reason 5. Friendly and Experienced Staff
Here at ND Brown, our company is still owned by the same management team as it was when we first started. As a result of this, our staff have continued to strive for excellence in the service that they provide. This attitude combined with over 40 years of experience means that they are well equipped to help with a wide variety of projects in a wide array of industries.
Our team will be committed to understanding the requirements of your job and finding the right solution for you and will be available to contact from when you initially make your enquiry right through to the end of your contract.
Contact ND Brown For HGV Hire Today
If you think that you're ready to hire a vehicle or you have some questions about our products and services, please contact us today. 
Our team will be happy to assist you with any queries that you may have. Alternatively, more information about each of our vehicles and specification sheets can be found on our website. If you have found this blog useful and would like to read more, you can check out our news section.
About ND Brown
ND Brown Ltd is a specialist independent truck rental and sales company of over 40 years' standing. Owned and operated by the same dedicated management team since its inception, ND Brown's efforts are focused on supplying the utility, civil engineering, municipal and highway maintenance industries with high-quality modern HGV vehicles for both short and long-term self-drive hire.
From our sales division, we also sell a wide, but specialised range of new and used commercial vehicles.
Please call us on 01902 791991 or email us on enquiries@ndbrown.co.uk