Fleet Hire Vehicles for County Councils
31/10/19
County Councils up and down the country are on the front line of road repairs and maintenance in the UK. Whether they oversee the roads in a predominantly rural location or have urban and city streets falling under their jurisdiction. Fleet hire is a cost effective means of ensuring that high quality and reliable HGV trucks and specialist vehicles are at their disposal and can be brought in to action to meet demands. ND Brown has been supporting County Council's in their efforts to keep traffic moving throughout the nation.
Fleet Hire for Road Repairs and Maintenance
Road repairs generally fall into two categories.
Planned maintenance is scheduled in advance and is programmed to be carried out during "road repair season" which is from spring until late summer. This is generally due to the more accommodating weather and warmer temperatures which make tasks such as resurfacing more effective.
Reactive repairs are carried out all year round to repair damage to the road surface. This could be following an accident or spillage. Climate change is also having an impact upon our roads and more intense rainfall can lead to localised flooding and damage. Once flooding has subsided, the area is assessed, and emergency repairs are actioned to reopen a stretch of road as quickly as possible. During the winter months falling temperatures leads to water and snow in fissures freezing and creating the dreaded pothole. County Councils will dispatch teams to repair these potholes to minimise disruption and damage to road users' vehicles.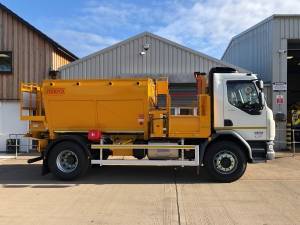 FORS Accredited Fleet Hire from ND Brown
ND Brown has been supporting County Councils in their quest to maintain and repair our highways and byways. From Monmouthshire in Wales to Argyll and Bute in Scotland and everywhere else in between. Being a FORS accredited associate means that a Council can rely on the highest standards of vehicle to either boost their existing fleet or as a cost effective way of outsourcing their HGV and plant hire needs. From tippers to hot boxes and gully emptiers we have any regions commercial vehicle fleet hire covered. Contact us today with your enquiries.
About ND Brown
ND Brown Ltd is a specialist independent truck rental and sales company of over 40 years' standing. Owned and operated by the same dedicated management team since its inception, ND Brown's efforts are focused on supplying the utility, civil engineering, municipal and highway maintenance industries with high-quality modern HGV vehicles for both short and long-term self-drive hire.
From our sales division, we also sell a wide, but specialised range of new and used commercial vehicles.
Please call us on 01902 791991 or email us on enquiries@ndbrown.co.uk