Supporting the Water Network in Birmingham
28/10/19
If you live in the West Midlands, when you turn on the tap to take a shower or put the kettle on for a morning cuppa, you're probably not thinking of the civil engineering and technology it has taken to get that H2O from the reservoir to your home. You're probably even less aware of the HGV's that play their part in the process.
Here at ND Brown we have been supporting contractors and partner organisations to Severn Trent Water, the region's water supplier and those responsible for the utilities. The water is transported via a network of pipes and treatment facilities from reservoirs in the Elan Valley. This series of man-made lakes were created from damming the Elan and Claerwen rivers within the Elan Valley in Mid Wales. Getting the water from the Welsh mountains to the West Midlands conurbation, Birmingham city and the suburbs is an amazing feat of engineering.
Supplying Vehicles to Birmingham Organisations
Whenever new or replacement pipework needs to be drilled and laid underground, soil and aggregates need to be extracted and removed. We have been supplying grab hire and other HGV vehicles to utilities companies and the construction industry. Tipper grabs are highly efficient vehicles for extracting and removing spoil from excavations. The driver can also operate the crane and bucket to ensure a speedy process and reduce disruption to the transport system and roads.
Civil engineering and construction companies working on projects in Birmingham and the continued development of the region have benefited from a flexible and reliable HGV hire service from ND Brown.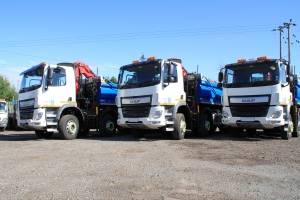 HGV Hire and Commercial Vehicles for the West Midlands
From our Wolverhampton HQ we have provided a wide range of commercial vehicles to bolster an existing fleet or provide lorries as part of an outsourced complete package for a specific project. To find out more about our services and HGV provision, please contact us today.
About ND Brown
ND Brown Ltd is a specialist independent truck rental and sales company of over 40 years' standing. Owned and operated by the same dedicated management team since its inception, ND Brown's efforts are focused on supplying the utility, civil engineering, municipal and highway maintenance industries with high-quality modern HGV vehicles for both short and long-term self-drive hire.
From our sales division, we also sell a wide, but specialised range of new and used commercial vehicles.
Please call us on 01902 791991 or email us on enquiries@ndbrown.co.uk