HGV Hire for Landscaping Projects
23/10/19
Landscaping projects have the power to transform the way in which we live and can enhance a home, workspace, or leisure environment. From initial concepts to the completion there are many steps and challenges to overcome. Project managers who are at the epicentre of a development and are the link between architect, designers and the client are busy acting to prioritise and communicate through all the stakeholders to ensure that the vision and plans are realised on time and within budget. To achieve this any contractor will need to have reliable machinery and hardware to carry out excavations and bring materials onsite. ND Brown has a full range of HGV hire for use in large and small scale landscaping projects.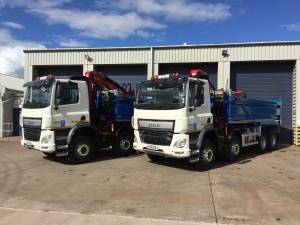 HGV Hire for Landscape Design and Architecture
Where a major transformation is taking place, this may require old structures to be demolished and soil to be excavated. When these materials cannot be reused and repurposed in some way on site, they need to be removed off site for recycling or disposal. This process is known as muck away and even a modest project can involve the extraction of many tonnes of debris. To make this possible ND Brown has a fleet of HGV Hire vehicles from small 3.5 tonne tippers to massive 32 tonne tipper grab hire. Construction companies can utilise them to bring building materials and aggregates on site for the completion of groundworks, foundations and building work. Roads, car parks and footpaths can be given a smooth surface with one of our Hot Boxes. Your project can also benefit from other specialist vehicles including 4×4's and gully emptiers.
ND Brown's HGV Hire to Support Your Landscaping Project
ND Brown is experienced in supplying HGV hire to support private and public landscaping projects of all sizes. The vehicles are available on long and short term contracts to suit your requirements and budget. We have a depot in your region so please contact us to discuss your requirements and get a quote.
About ND Brown
ND Brown Ltd is a specialist independent truck rental and sales company of over 40 years' standing. Owned and operated by the same dedicated management team since its inception, ND Brown's efforts are focused on supplying the utility, civil engineering, municipal and highway maintenance industries with high-quality modern HGV vehicles for both short and long-term self-drive hire.
From our sales division, we also sell a wide, but specialised range of new and used commercial vehicles.
Please call us on 01902 791991 or email us on enquiries@ndbrown.co.uk