Supporting Construction and Growth in London and the South East
21/10/19
ND Brown's HGV hire in London supports a wide range of local authorities and private contractors who are all busy maintaining our capital city, building its infrastructure and that of the surrounding counties.
Civil engineering and construction giants such as Kier, Amey and Balfour Beatty are all involved in massive projects which will shape London for many decades to come. Partnering with organisations like Transport for London to make essential upgrades to the underground network. Renewing track over the next four years to make it fit for the 21st Century. Or constructing the first phase of the East Wick and Sweet water projects and continuing with the transformation of East London as part of the 2012 Olympic Games legacy. The borough will see a further 1500 homes being built within this area alone.
High Quality Truck and Commercial Vehicle Hire in London
From these huge multi million pound projects down to more modest and daily tasks such as street cleaning within the boroughs, all require a supply chain of commercial vehicles and HGV's. Organisations can hire a wide range of the highest quality vehicles from massive 32 tonne tipper grabs to extract spoil and efficiently remove it off site, or bring in much needed aggregates. We also supply a range of 7.2 tonne to 26 tonne hot box and road mender vehicles for resurfacing the highways, cycle lanes and footpaths. Should you need to transport workers or ferry site and project managers around one of the vast building sites in the Greater London region, then you can benefit from Land Rovers and 4×4 pick ups.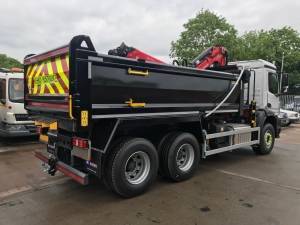 Specialist HGV Hire in London and the South East
From our south east depot ND Brown are the regions HGV and commercial vehicle hire specialist. You get to utilise the latest vehicles from famous names such as DAF and Iveco. All of our vehicles are available on long and short term contracts. We are here to support your project so consider has part of your team. Contact us today to discuss your project requirements further.
About ND Brown
ND Brown Ltd is a specialist independent truck rental and sales company of over 40 years' standing. Owned and operated by the same dedicated management team since its inception, ND Brown's efforts are focused on supplying the utility, civil engineering, municipal and highway maintenance industries with high-quality modern HGV vehicles for both short and long-term self-drive hire.
From our sales division, we also sell a wide, but specialised range of new and used commercial vehicles.
Please call us on 01902 791991 or email us on enquiries@ndbrown.co.uk