Truck Hire for Construction Projects in Manchester
15/10/19
Frequent visitors to Manchester and those who already live there will see that it has undergone a big transformation over the last couple of decades. There is a boom in construction and the number of inhabitants continue to expand adding around 3,067 to 6,106 people to the overall population every year. With demand for hotels, office space, apartments, housing and retail increasing, and the need to develop the transport, utilities and waste infrastructure to accommodate this. Developers and their contractors need a wide variety of HGV hire solutions and grab hire in Manchester as part of the demands of a varied project supply chain.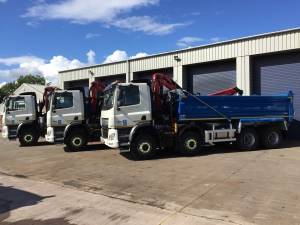 Comprehensive Truck Hire in Manchester
Manchester's construction costs are now the third highest in the UK. ND Brown have a comprehensive and competitively priced fleet of HGV's including tippers, hot boxes, gully emptiers, road sweepers. All of which are used by contractors and councils to enable them to maintain the region's infrastructure and carry out the construction demands and to help them manage budgets. To put this into context there are now 1.6 billion individual trips on the local highways network made annually according to Transport for Greater Manchester and 400 miles of the busiest roads carry the most traffic.
Working with organisations like Bolton Metropolitan Council and contractors like Kier and Amey across the region we supply only the highest quality vehicles by DAF and Iveco amongst others.
Truck Hire in Manchester Specialists
ND Brown has strategically located depots across the UK so that we can meet the demands of our clients 24 hours a day, 365 days a year. Available on long and short term hire solutions you can consider us as part of your team and we will work closely with you to deliver exactly what you need, when you require it. Whether that's an Iveco 7.2 tonne tipper, a 32 tonne DAF tipper grab or an 18 tonne hotbox road mender. Contact us today with your requirements.
About ND Brown
ND Brown Ltd is a specialist independent truck rental and sales company of over 40 years' standing. Owned and operated by the same dedicated management team since its inception, ND Brown's efforts are focused on supplying the utility, civil engineering, municipal and highway maintenance industries with high-quality modern HGV vehicles for both short and long-term self-drive hire.
From our sales division, we also sell a wide, but specialised range of new and used commercial vehicles.
Please call us on 01902 791991 or email us on enquiries@ndbrown.co.uk