Government Announces New Transport Infrastructure Investment Fund
18/5/20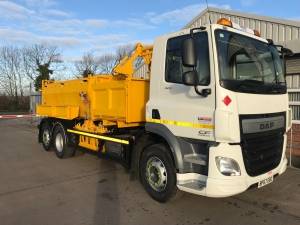 On Thursday 14th May, Transport Secretary Grant Shapps announced plans to invest in both road and railways to support the country's economic recovery. In line with the government's plans to level-up infrastructure across the country, £1.7 billion has been pledged to support the improvement and repair of local roads to ensure safety of cyclists, pedestrians, and drivers across England. As well as this £175 million will also be funneled into fast tracking construction works. This is to ensure vital repairs are carried out while the roads are quiet because of the lockdown.
Over the past month, at N.D. Brown, we have had the pleasure of supporting a range of contractors and local councils carry out major improvement works through hot box hire and specialist vehicle hire. £200 million of work has been carried out on motorways and A-roads while the the majority of us have heeded the government advice to stay at home. This is with a view to ensure smoother, safer journeys as the lockdown eases.
The Transport Infrastructure Investment Fund
The newly announced funding will aim to target and repair the 11 million 'nuisance' potholes. It will also allow for improvements to be carried out on local networks, with plans targeting safety at key locations and more priority bus lanes.
Grant Shapps also made it clear during the daily coronavirus briefing on Saturday 9th May that the Department for Transport will be taking action to make transport systems cleaner and greener, with commuters being encourage to consider 'active travel' such as cycling, walking. Sustainable initiatives include plans for a national cycling plan, with the goal of doubling cycling and increasing walking by 2025. And an initiative to fast-track e-scooter rental schemes to reduce car use on shorter journeys.
However, the Transport Secretary did acknowledge that cars will remain an essential form of transport for many. And the Transport Infrastructure Investment Fund aims to support that.
Smooth Journeys with Hot Boxes From ND Brown
At N.D. Brown, we have had the pleasure of working regularly with the Highways Agency on a wide variety of road improvement projects across the country. Throughout this tumultuous period, we have taken great pride in continuing to do this, supporting contractors and local councils to make a glut of improvements.
Through our tarmac hot box hire and traffic management vehicle hire, we have supported a wide range of clients to carry out upgrades efficiently and safely to infrastructure on road networks nationwide. From our depots in the South West, South East, Scotland, Belfast and the Midlands, we are well-placed to serve a variety of clients when it comes to vehicle hire. This includes hot box hire, tipper hire, grab hire, and specialist and municipal vehicle hire.
We understand just how important it is that our road networks are safe. Especially as the lockdown begins to ease.
Hot Box Hire from ND Brown
We have a wide range of hot boxes for hire at N.D. Brown, all of which are available for short- or long-term hire. This includes:
To find out more about any of the vehicles listed above, please click through and download their respective brochures. Alternatively, contact us. Our team are on hand to support with your requirements no matter the size or scope and our experience makes us the first choice for handling projects whether they be short or long term.
To speak to our sales team, give us a call today on 01902 791 991. Or email us on enquiries@ndbrown.co.uk.
About ND Brown
ND Brown Ltd is a specialist independent truck rental and sales company of over 40 years' standing. Owned and operated by the same dedicated management team since its inception, ND Brown's efforts are focused on supplying the utility, civil engineering, municipal and highway maintenance industries with high-quality modern HGV vehicles for both short and long-term self-drive hire.
From our sales division, we also sell a wide, but specialised range of new and used commercial vehicles.
Please call us on 01902 791991 or email us on enquiries@ndbrown.co.uk