Leading the Way for Grab Hire in the Midlands
30/1/19
Grab hire in the Midlands from truck rental specialists N.D. Brown will make sure your construction projects are completed on schedule.
The Midlands is a hot bed of activity for the next few years, with huge high profile projects such as the redevelopment of the Alexander Stadium for the 2022 Commonwealth Games and continued work on the HS2 line just two of a host of infrastructure going on across the region.
Here at N.D. Brown we offer three different sizes of grab hire in the Midlands, with 7.5, 26 tonne and 32 tonne capacity tippers; meaning we can assist with projects of any scale. You will be spoilt for choice with a selection of 450 vehicles from our fleet.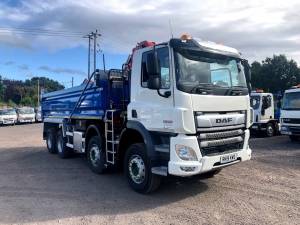 Trusted Grab Hire in the Midlands
N.D. Brown is accredited by various organisations, which highlight our commitments to health and safety for our staff, the environment and providing the highest quality of service to our customers. These highly reputable affiliations and accreditations include Constructionline, NQA, Achilles and FORS.
Expanded Variety of Grab Hire in the Midlands
Due to recent expansion here at N.D. Brown, we are now able to offer new and used commercial vehicles to hire and purchase. We work with all of our customers to ensure you get the best deal and most importantly the ideal vehicle for your requirements.
We also have regular experience of working to tight deadlines as we know logistics can be a challenging business.
Talk to Us About Grab Hire in the Midlands
N.D. Brown is the only destination for companies looking for grab hire in the Midlands, boasting over 30 years' experience in the truck rental industry. Our team of specialists will be able to give you all the advice you require so you can choose the best grab hire vehicle to suit your needs. Contact us to find out more today.
About ND Brown
ND Brown Ltd is a specialist independent truck rental and sales company of over 40 years' standing. Owned and operated by the same dedicated management team since its inception, ND Brown's efforts are focused on supplying the utility, civil engineering, municipal and highway maintenance industries with high-quality modern HGV vehicles for both short and long-term self-drive hire.
From our sales division, we also sell a wide, but specialised range of new and used commercial vehicles.
Please call us on 01902 791991 or email us on enquiries@ndbrown.co.uk