Tarmac Hotbox Will Create Dream Driveways
7/2/19
A tarmac hotbox from N.D Brown is the best way to create eye catching driveways and paving for housing developments.
Statistics from the National House Building Council showed new home completions from housing companies were up 1% in 2018, with 149, 480 homes finished. With this sort of demand only set to increase with people now living longer and the population growing, the need for more housing has never been greater.
Here's some reasons tarmac is great to use on driveways for your housing development –
As a low maintenance option which won't require any work once installed
You can install tarmac on any shape of driveway and it will look great
A strong, flexible and durable material, tarmac doesn't break, crack or wear down quickly
According to a study from 2005, tarmac requires 20% less energy to produce than other materials used for paving and driveway such as concrete – making tarmac more environmentally friendly for developers.
Hire or Buy the Right Tarmac Hotbox for You
Here at N.D Brown we host a wide range of sizes of tarmac hotbox for all different types of projects.
For example, our 18 tonne GVW Roadmender unit is extremely popular for road repairs as well as road surfaces which replace a previous layer.
This model is also fitted with a hydraulic loader bucket and hydraulically driven discharge augers.
N.D Brown give you the option of hiring one of our tarmac hotbox vehicles or purchasing them, if you need them for a long term project.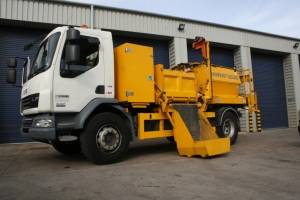 N.D Brown Provide Tarmac Hotbox Everywhere
From our four depots in Wolverhampton, Kent, Devon, Scotland and Northern Ireland we can service any size of project requiring a tarmac hotbox, HGV or Tippers.
Get in touch today to speak to one of our experts who can answer any questions you may have, and share some of our 30 years of experience in truck rental and sales.
We have also recently expanded our services and now sell a wide range of new and used commercial vehicles. Browse ND. Brown's range of vehicles for sale.
About ND Brown
ND Brown Ltd is a specialist independent truck rental and sales company of over 40 years' standing. Owned and operated by the same dedicated management team since its inception, ND Brown's efforts are focused on supplying the utility, civil engineering, municipal and highway maintenance industries with high-quality modern HGV vehicles for both short and long-term self-drive hire.
From our sales division, we also sell a wide, but specialised range of new and used commercial vehicles.
Please call us on 01902 791991 or email us on enquiries@ndbrown.co.uk