Stylish Home Improvements with Grab Hire in London
14/2/19
Grab hire in London from N.D Brown will help speed up the construction of your latest home improvements.
N.D Brown have a tonne (excuse the pun) of experience providing the best range of tipper grabs for hire in domestic and commercial projects. We are often contacted by home building companies as well as people looking to extend their home.
Here are some of the uses for grab hire in London:
Garden Landscaping Using Grab Hire in London
The winter temperatures are starting to thaw and with the added sunshine comes the opportunity to transform the look of your garden.
When you start planning your garden's new design, having a grab hire in London on hand to clear your excess dirt away will give you the garden of your dreams faster.
This also means less manual shovelling of soil, with the grabber able to handle more earth quicker and save you even more time.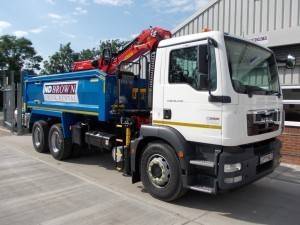 Extending Your Home with Grab Hire in London
Extending your home is a great way to increase the value of your property and create brand new living spaces for the entire family. Whether you're extending the back of your home, installing a conservatory or garden room – using a grab hire helps to make building waste removal a seamless process.
The 18 tonne grab hire is one of our most popular vehicles for home extensions with a choice of Atlas, Epsilon or HMF cranes and twin stand up controls.
Discuss Grab Hire in London
N.D Brown have been providing the leading grab hire in London service for over three decades, with multiple solutions for all kinds of projects.
We don't just sell and hire grabbers, we also provide HGV and cage tippers right across Britain, with depots in Wolverhampton, Devon, Kent, Belfast and Scotland.
Tell us about your latest project and we have no doubt you will find the commercial vehicles you need with N.D Brown.
About ND Brown
ND Brown Ltd is a specialist independent truck rental and sales company of over 40 years' standing. Owned and operated by the same dedicated management team since its inception, ND Brown's efforts are focused on supplying the utility, civil engineering, municipal and highway maintenance industries with high-quality modern HGV vehicles for both short and long-term self-drive hire.
From our sales division, we also sell a wide, but specialised range of new and used commercial vehicles.
Please call us on 01902 791991 or email us on enquiries@ndbrown.co.uk