The Rich History of Tipper Hire Vehicles
24/2/19
Tipper hire vehicles have a long and rich history, which has helped them become a staple of the construction industry since the 19th century.
Dump trucks were first used on farms in Western Europe, tippers were added to them around 1896 with the vehicles then motorised by manufacturers in the United States in 1910.
The demand for tipper trucks grew during the First World War, with hydraulics added to them just a few years later.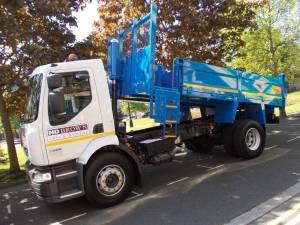 The Benefits of Using Tipper Hire from N.D Brown
Since their creation, tippers have developed massively, with N.D Brown at the forefront of the market. Providing a wide range of sizes from 3.5 tonne right through to 32 tonne, with the option of an 18 tonne tipper with cover.
We know that it's not a one size fits all situation when it comes to tipper hire, which is why we have such an extensive range to meet your specific needs.
Tipper Hire or Buy – The Choice is Yours
The tipper hire service here at N.D Brown offers flexible contracts to suit the length of your project, but if you'd like to have a tipper ready to go for future work, we also offer the option to buy.
This may be the most cost effective solution for long term work. Take a look at our Vehicle Sales page where you can find out more in depth information on all the models we currently have available.
Talk to Experienced Tipper Hire Providers
So whether you decide to hire or buy a tipper from N.D Brown, we have over 30 years' experience in the truck rental and sales market with a dedication to a high quality and friendly service.
If you'd like to find out more about our tipper hire range, please get in touch to speak to us today.
From our depots in Wolverhampton, Kent, Devon, Belfast and Scotland we're able to service the entire United Kingdom, including Birmingham, Manchester and London.
About ND Brown
ND Brown Ltd is a specialist independent truck rental and sales company of over 40 years' standing. Owned and operated by the same dedicated management team since its inception, ND Brown's efforts are focused on supplying the utility, civil engineering, municipal and highway maintenance industries with high-quality modern HGV vehicles for both short and long-term self-drive hire.
From our sales division, we also sell a wide, but specialised range of new and used commercial vehicles.
Please call us on 01902 791991 or email us on enquiries@ndbrown.co.uk