Planning for the Future with Grab Hire in Manchester
22/3/19
Grab hire in Manchester services will become increasingly popular with a host of high-profile construction projects greenlit for the coming years. N.D Brown have provided grab hire in Manchester and all over the country for over 30 years from our perfectly positioned four depots.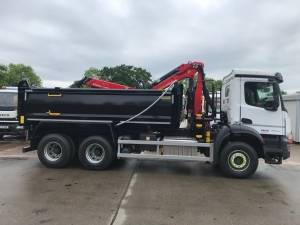 We offer a variety of tipper grabs from 7.5 tonnes to 32-tonne vehicles which can be hired or purchased from short- or long-term assignments. With regular experience working with a host of construction firms we can offer insight into the suitable size of vehicles to fit any length of the program.
With that in mind here's just a selection of what's going to be lighting up the Northern skyline soon –
St. Michaels –
Steered by former footballer Gary Neville, this £200m development will see another skyscraper added to the Deansgate area, with luxury apartments, a new synagogue, offices and a roof garden with work expected to begin later this year.
Boddington's Brewery re-development –
The famous Boddington's Brewery site which closed in 2005, will make way for over 500 flats in a £175m redevelopment of the site which will also include 40,000 sq. ft of retail and commercial space.
Great Northern Warehouse –
It's been over 20 years since this landmark venue in the city centre was last overhauled, with the first stage of the redevelopment set to add apartments to the upstairs to replace the warehouse's current parking space.
River Street –
This unfinished car parking plot on River Street is set to be demolished and be replaced by a 32-storey skyscraper containing 800 student homes.
Your Only Choice for Grab Hire in Manchester
Our fleet of 450 vehicles stands ready to assist with any sort of construction project. Plus we don't just provide tipper grabs, we also have HGV's, Cage tippers, hot box and 4×4's available for hire or purchase – giving you the complete package!
Get in touch with our team of experts today and we can share our industry knowledge and make sure you get the right vehicle or vehicles for you.
About ND Brown
ND Brown Ltd is a specialist independent truck rental and sales company of over 40 years' standing. Owned and operated by the same dedicated management team since its inception, ND Brown's efforts are focused on supplying the utility, civil engineering, municipal and highway maintenance industries with high-quality modern HGV vehicles for both short and long-term self-drive hire.
From our sales division, we also sell a wide, but specialised range of new and used commercial vehicles.
Please call us on 01902 791991 or email us on enquiries@ndbrown.co.uk