Smooth Journey's Guaranteed with Tarmac Hotbox from N.D Brown
26/3/19
Tarmac hotbox vehicles from N.D Brown will help to deliver improved infrastructure across the country, in line with the Government's Road Investment Strategy.
N.D Brown has worked regularly with the Highways Agency on an array of road improvement projects in various different locations.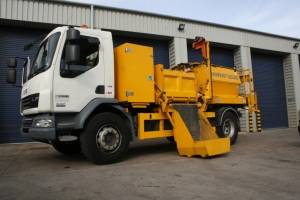 Tarmac Hotbox Helps Drive Strategy Forward
The Road Investment Strategy was first introduced in 2015, with a five-year plan outlined in the document with the intention of improving Britain's motorways and major trunk roads with five major aims:
Support the UK economy with improved transport links
Having a network ready for the future
Improve safety of drivers encouraging safe behaviour and investment in road design
Integrate new roads with existing roads
Tackle long term environment challenges including climate change
As the first plan ends next year, here are some of the significant developments currently on-going ahead of the 2020 revised document –
M4 'Smart' Motorway installation between junctions 3 and 12.
M6 'Smart' Motorway upgrade between junctions 16 and 19
M1 Junctions 19 to 16 reducing congestion with a 'Smart' motorway
The Government has also tasked Highways England with improving safety performance on strategic road networks as well as tackling engineering challenges. Tarmac Hotbox vehicles have proved time and time again as an efficient way of constructing new roads and repairing existing networks.
Talk to the Tarmac Hotbox Specialists
N.D Brown is the leading independent truck rental and sales company with short and long-term solutions available for tarmac hotbox vehicles plus cage tippers, hot box, tippers and 4×4's.
You won't find a better range of hotbox's with 7.5 tonnes right up to 26-tonne variants of our fleet of vehicles available for hire or purchase.
If you'd like to know more about our fleet of vehicles, please get in touch today and we can advise which ones are best for your upcoming projects.
About ND Brown
ND Brown Ltd is a specialist independent truck rental and sales company of over 40 years' standing. Owned and operated by the same dedicated management team since its inception, ND Brown's efforts are focused on supplying the utility, civil engineering, municipal and highway maintenance industries with high-quality modern HGV vehicles for both short and long-term self-drive hire.
From our sales division, we also sell a wide, but specialised range of new and used commercial vehicles.
Please call us on 01902 791991 or email us on enquiries@ndbrown.co.uk