UK Construction Projects Require HGV Hire and Tippers
12/4/19
There is an abundance of construction projects in the UK currently, for which commercial vehicle hire such as HGV's and tippers will be playing an important part.
From massive projects like the building of the Plymouth link road, the construction of Swansea Arena, to the £1bn Middlewood Locks development in Manchester. Or the long term development of Birmingham city centre; which will see 5,000 new homes being built, seven new city quarters created, and an improved transport infrastructure, including 28km of cyclist and pedestrian routes.
Tipper Hire and HGV Hire for Excavations and Waste Removal
These expansive engineering projects will rely on HGV trucks to ferry materials to the building sites. While fleets of tipper lorries will be removing any excavated soil and earth to make space for the foundations of roads, landscaping and buildings. These work horses are essential to keeping a project on track. Tight timescales need to be adhered to and keep the construction processes on schedule. Delays cost money and in the world of multi-million-pound contracts, having a reliable source of tipper hire and HGV hire is a crucial part of project management and logistics. You might need specialist vehicles like tipper grabs, which are useful on sites with limited access and mobility. The extendable arm and bucket lifts materials without the need for an additional digger.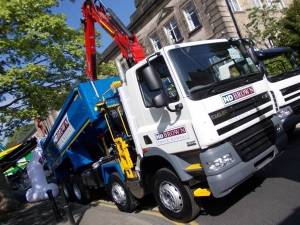 ND Brown for National Tipper Hire and HGV's
The ND Brown headquarters is centrally located in Wolverhampton, with depots strategically placed to cover all the regions of the United Kingdom (including London). Whether your organisation has won the contract to implement one of the country's major engineering developments, or your building project is more modest in comparison. We understand the importance to all of our customers which is why we can offer short term and long term tipper hire to meet project requirements. Our experts are available to provide exactly the right commercial vehicle hire to assist you in making your project a success. Contact us today with your enquiries.
About ND Brown
ND Brown Ltd is a specialist independent truck rental and sales company of over 40 years' standing. Owned and operated by the same dedicated management team since its inception, ND Brown's efforts are focused on supplying the utility, civil engineering, municipal and highway maintenance industries with high-quality modern HGV vehicles for both short and long-term self-drive hire.
From our sales division, we also sell a wide, but specialised range of new and used commercial vehicles.
Please call us on 01902 791991 or email us on enquiries@ndbrown.co.uk